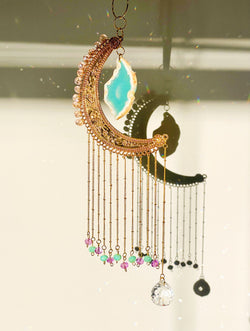 magickcollective
Midi Crescent Dreamy Moon Sun Catcher
Midi Crescent Dreamy Moon Sun Catcher
Embrace Celestial Charm: Indulge in the captivating allure of the Midi Crescent Dreamy Moon Sun Catcher, a mesmerizing decorative piece that brings the enchanting beauty of the celestial world right into your living space.
Artisan Craftsmanship: Expertly crafted by skilled artisans, this sun catcher showcases intricate details and precision, reflecting the devotion and passion put into its creation.
Harmonious Crescent Design: The delicate crescent moon shape harmoniously blends with the dreamy sun, creating a seamless fusion of celestial elements that exude tranquility and grace.
Glittering Sunlit Effect: When exposed to sunlight, the sun catcher comes to life, casting shimmering and radiant patterns, infusing your room with a soft, ethereal glow.
Quality Materials: Made from premium materials, the Midi Crescent Dreamy Moon Sun Catcher boasts durability and is designed to withstand the test of time, ensuring it remains a cherished part of your decor for years to come.
Versatile Decor Piece: Perfect for any room, be it your bedroom, living room, nursery, or office, this sun catcher effortlessly complements various interior styles, adding a touch of celestial elegance to your surroundings.
Ideal Gift Choice: Whether for a housewarming, birthday, or any special occasion, this enchanting sun catcher makes for a thoughtful and meaningful gift that will be appreciated by friends and family alike.
Easy Installation: Equipped with a convenient hanging loop, the sun catcher can be easily suspended near a window, on a wall, or from the ceiling, allowing you to create your own celestial-inspired display effortlessly.
Inspiring Meditation Aid: Create a calming ambiance in your meditation space or yoga room with the serene presence of this sun catcher, enhancing your spiritual practices and moments of mindfulness.
Eco-Friendly Packaging: We care for the environment as much as we care for our products. The sun catcher comes in eco-friendly packaging, ensuring a sustainable and responsible approach to our business practices.
Unleash the celestial magic and embrace the tranquility with the Midi Crescent Dreamy Moon Sun Catcher. Let its captivating beauty soothe your soul and elevate your space to a realm of celestial wonder.