Magickcollective
Honey Agate Statement Necklace
Honey Agate Statement Necklace
Experience the empowering allure of the Honey Agate Statement Necklace, a daring masterpiece that unlocks your inner power. This bold and striking necklace features slab cut Agate stones in a captivating shade of yellow, representing the ultimate force of willpower. Crafted with 22K gold plated 925 sterling silver finish, this necklace not only exudes confidence and courage but also promises prosperity to its wearer.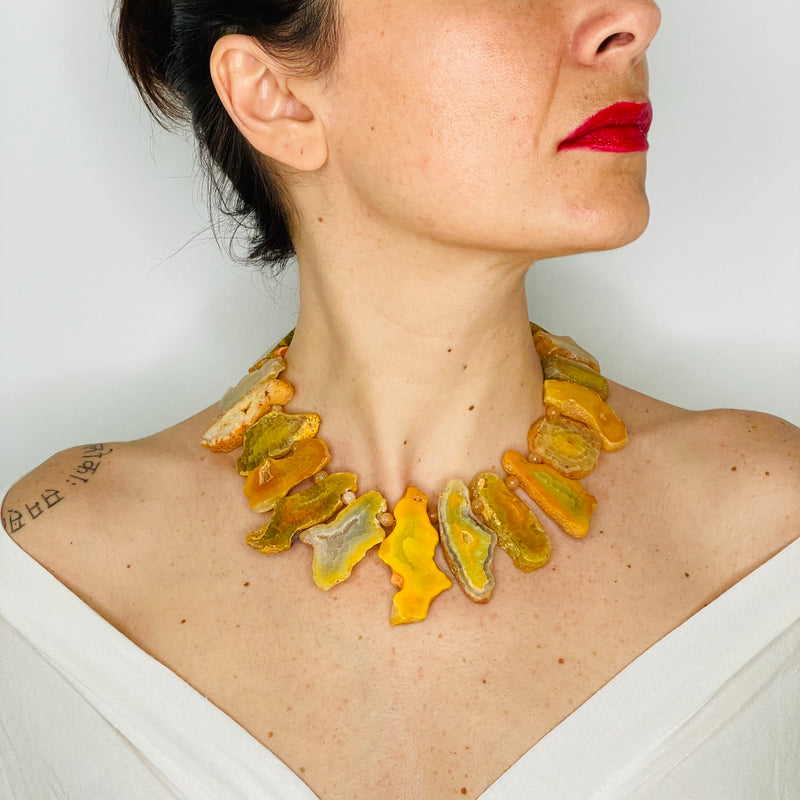 Product Description:

Embrace your inner power: The Honey Agate Statement Necklace serves as a powerful symbol of strength and determination, empowering you to face any challenge with confidence and resilience.


Striking yellow Agate stones: The bold slab cut Agate stones in a mesmerizing shade of yellow catch the eye and make a daring statement, commanding attention wherever you go.
Crafted with precision: Meticulously designed with 22K gold plated 925 sterling silver finish, this necklace showcases fine craftsmanship, ensuring both durability and a touch of luxury.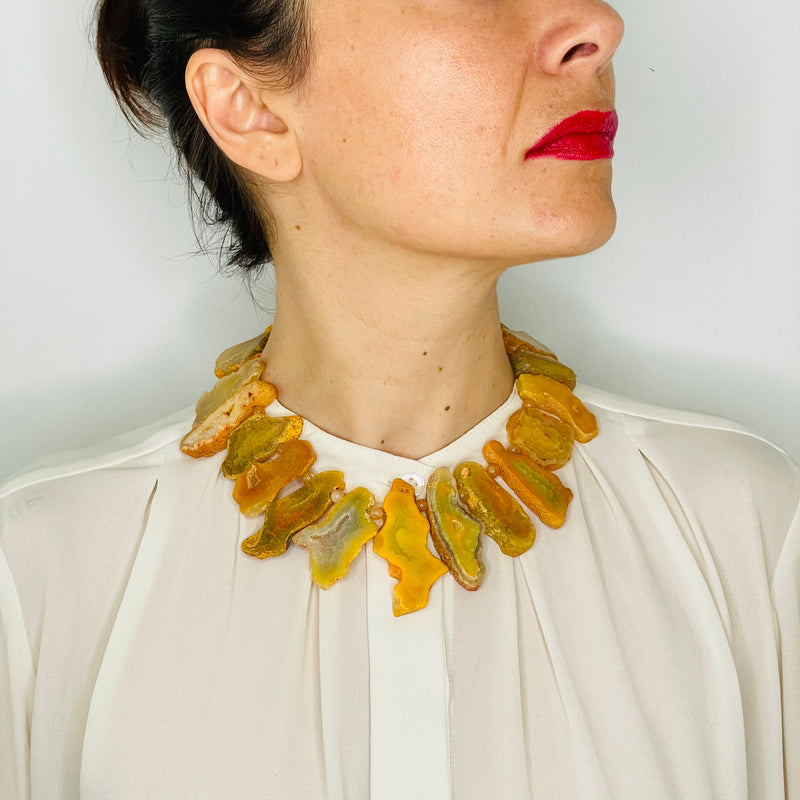 Length for perfect fit: With a length of 17 inches, this necklace gracefully enhances your neckline, making it an ideal accessory to complement various outfits.
Adjustable extension: The 2-inch extension provides flexibility, allowing you to customize the necklace's length to suit your preference and style.
Secure and stylish closure: The lobster clasp, made with 22K gold plated 925 sterling silver, not only ensures a reliable closure but also adds a touch of sophistication to the design.
Confidence and courage: Infused with the essence of determination, the Honey Agate Statement Necklace is more than just an accessory; it's a reminder of your inner strength and potential.
Prosperity and abundance: Yellow Agate is believed to attract prosperity and abundance, making this necklace a symbol of prosperity and success.
Stand out from the crowd: Wear this striking statement necklace to exude boldness and individuality, and let it be a conversation starter wherever you venture.

Unlock the full potential of your style and personality with the daring Honey Agate Statement Necklace. Embrace its empowering aura, and let it be a source of inspiration, confidence, and prosperity in your journey of self-discovery. Elevate your look with this exceptional piece of jewelry that exudes strength and captures the essence of willpower in a dazzling display of elegance.