Magickcollective
Black Pearl Bracelet
Black Pearl Bracelet: Exquisite Elegance and Timeless Beauty
Stunning Black Pearls: This bracelet features genuine black pearls of unparalleled beauty. Each pearl is carefully handpicked for its lustrous shine, smooth surface, and deep black hue, making this bracelet a true statement of elegance.
Classic and Versatile Design: The timeless design of this black pearl bracelet ensures it complements a wide range of styles, from formal occasions to everyday wear. Whether you're dressing up for a gala or adding a touch of sophistication to your office attire, this bracelet effortlessly elevates any outfit.
High-Quality Craftsmanship: Meticulously crafted by skilled artisans, this black pearl bracelet reflects the finest in jewelry-making techniques. The pearls are expertly strung and secured with a durable clasp, ensuring both beauty and durability.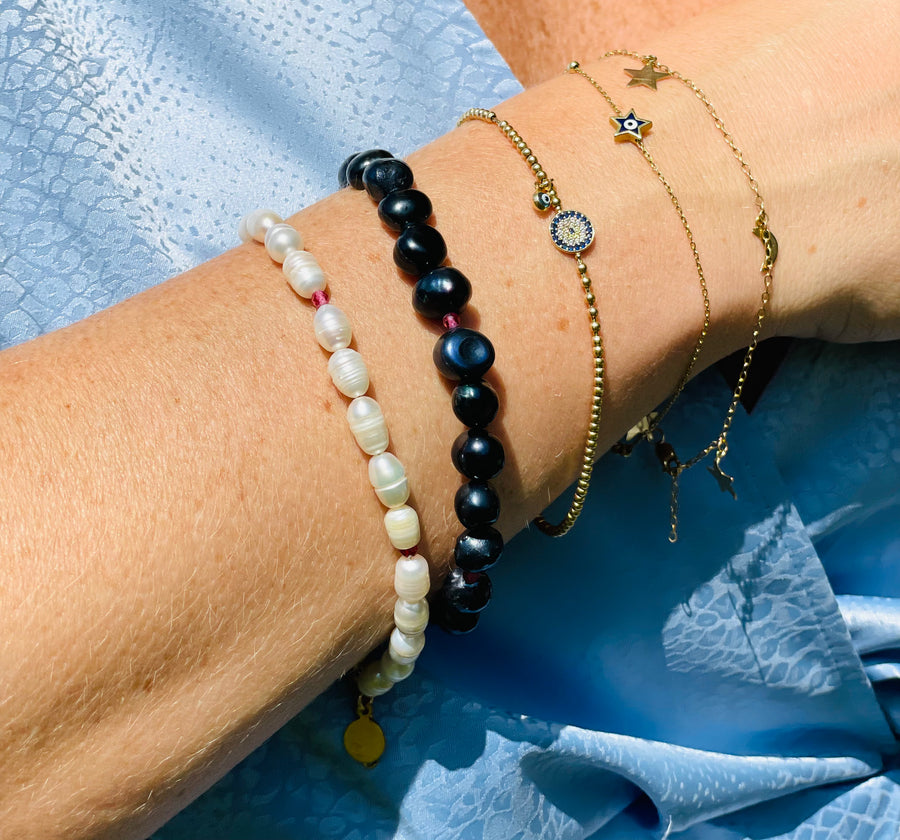 A Symbol of Luxury: Black pearls have long been associated with luxury and refinement. When you wear this bracelet, you exude a sense of prestige and sophistication that will captivate those around you.
Thoughtful Gift: This exquisite black pearl bracelet makes for a thoughtful and cherished gift for a loved one. Whether it's for a birthday, anniversary, graduation, or any special occasion, it's a gift that will be treasured for years to come.
Adjustable Fit: The bracelet comes with an adjustable chain or elastic band, allowing for a comfortable and customized fit for different wrist sizes.
Versatile for Layering: The delicate design of the black pearl bracelet makes it ideal for layering with other bracelets or bangles. Create your own unique style by pairing it with other jewelry pieces to express your individuality.
Suitable for All Ages: The timeless appeal of black pearls knows no age limit. This bracelet suits the taste and style of both the young and the young at heart, making it a versatile accessory for all generations.
Hypoallergenic and Skin-Friendly: Crafted from high-quality materials, this bracelet is hypoallergenic and safe for sensitive skin. You can wear it with confidence, knowing it won't cause any irritation or discomfort.
Unforgettable Moments: Whether it's a special event or an everyday occasion, this black pearl bracelet helps you create unforgettable moments that will be cherished forever.
Embrace the enchanting allure of black pearls with this exquisite bracelet. It is a timeless piece that exudes elegance and sophistication, perfect for elevating your style and leaving a lasting impression. Indulge in the luxury and beauty of black pearls, and let this bracelet become a treasured part of your jewelry collection.