magickcollective
Bonny Bonne Mix Beaded Bracelet
Bonny Bonne Mix Beaded Bracelet
A Vibrant Expression of Style: Step up your fashion game with the Bonny Bonne Mix Beaded Bracelet. This stunning piece is a vibrant expression of style that effortlessly complements any outfit. The bracelet features a delightful mix of colorful beads that add a playful touch to your overall look.
Premium Quality Materials: Crafted with precision and attention to detail, the Bonny Bonne Mix Beaded Bracelet is made from premium quality materials. The beads are carefully selected for their durability, ensuring a long-lasting accessory that will remain beautiful for years to come.
Versatile and Adjustable: Designed for versatility, this beaded bracelet is adjustable to fit different wrist sizes comfortably. Whether you wear it snug or loose, the bracelet will adapt to your preference, making it an ideal gift for yourself or a loved one.
Handcrafted Elegance: Each Bonny Bonne Mix Beaded Bracelet is handcrafted with love and care. The intricate design and skilled craftsmanship ensure that every piece is unique, adding an element of exclusivity to your jewelry collection.
Perfect for All Occasions: This beaded bracelet is a versatile accessory that effortlessly transitions from casual to formal occasions. Whether you're heading to a beach party, a family gathering, or a special event, the Bonny Bonne Mix Beaded Bracelet will complement your style with its charming allure.
Thoughtful Gift Choice: Looking for the perfect gift for a friend or family member? The Bonny Bonne Mix Beaded Bracelet is an excellent choice. Its eye-catching design and thoughtful craftsmanship make it a memorable present that will be cherished for a lifetime.
Lightweight and Comfortable: Enjoy the beauty of this beaded bracelet without compromising on comfort. The lightweight construction ensures that you can wear it all day long without any discomfort, adding a touch of elegance to your outfit without feeling weighed down.
Easy to Mix and Match: The colorful array of beads in the Bonny Bonne Mix Beaded Bracelet makes it easy to mix and match with various outfits. Create a fun and fashionable style by pairing it with other bracelets or let it stand alone as a statement piece.
A Symbol of Positivity: Embrace positivity and joy with this delightful beaded bracelet. Its lively colors and charming design serve as a constant reminder to embrace life's beauty and spread happiness wherever you go.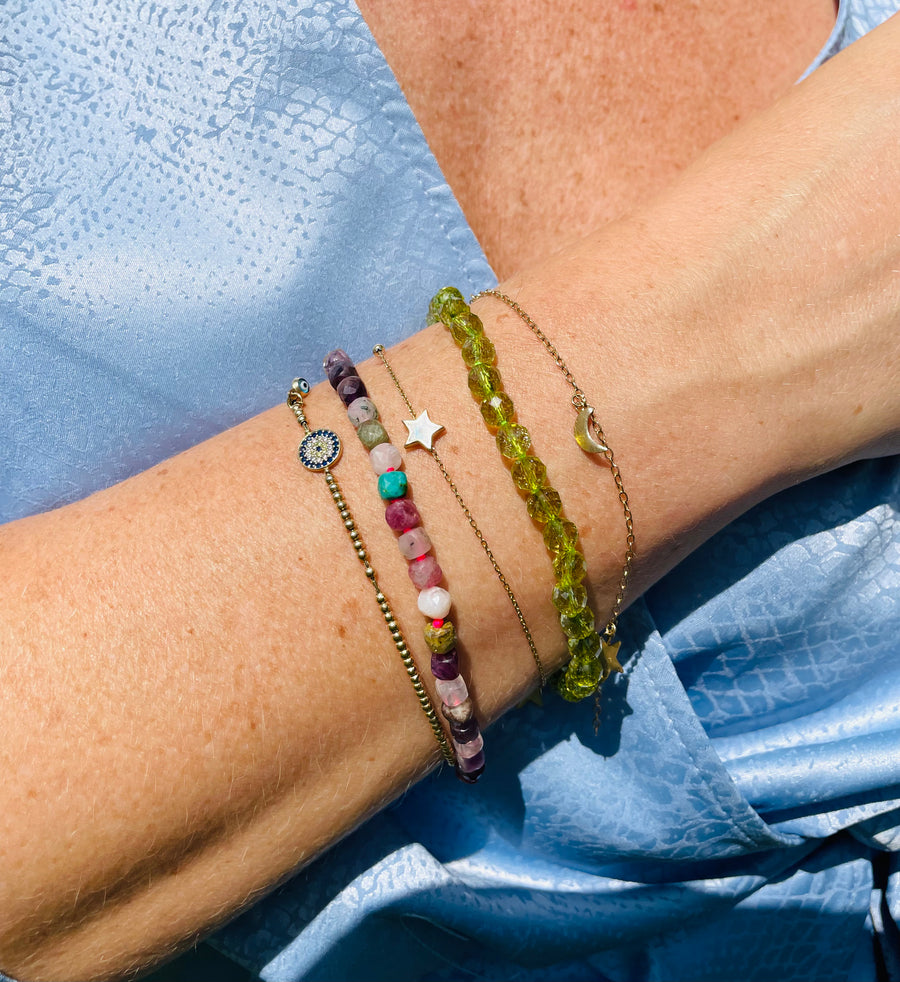 Secure and Durable Clasp: The Bonny Bonne Mix Beaded Bracelet comes with a secure and durable clasp, ensuring that it stays in place throughout the day. You can wear it with confidence, knowing that it will remain securely on your wrist.
Elevate your style and make a bold statement with the Bonny Bonne Mix Beaded Bracelet. With its captivating design, premium materials, and timeless appeal, this bracelet is a must-have accessory for every fashion-forward individual.