magickcollective
Crescent in Love Half Mala Necklace
Crescent in Love Half Mala Necklace
Celebrate the boundless power of love with our enchanting Crescent in Love Half Mala Necklace. Crafted to open and balance the heart chakra, this gemstone mala radiates love, self-acceptance, and compassion. Featuring Dragon Jade, Jade, Strawberry Quartz, and an Angel Aura Quartz Pendant, this exquisite accessory embodies the crescent moon's transformative energy, guiding you on a journey of love and self-discovery.
Gemstone Properties:
Dragon Jade: Embrace the protective and nurturing energies of Dragon Jade. This gemstone enhances love and harmony, fostering a deep connection with oneself and others.
Jade: Known as a symbol of purity and serenity, Jade encourages self-love and emotional healing. It soothes the heart and promotes feelings of tranquility and balance.
Strawberry Quartz: This gentle and loving gemstone carries the vibrations of universal love. It inspires compassion and tenderness, strengthening your connection with others and promoting a sense of unity.
Angel Aura Quartz Pendant: The Angel Aura Quartz pendant serves as a focal point, intensifying the necklace's energy and intention. It radiates pure love and spiritual grace, infusing your being with divine energies.
How to Use Your Mala:
Each Half Mala comes with a thoughtful card guiding you on how to use it effectively during meditation and intention setting. The Crescent in Love Half Mala Necklace is more than just an accessory; it's a tool to immerse yourself in the frequencies of love and embrace the transformative power of your heart chakra.
Size & Fit:
Featuring approximately 54 beads, each measuring 8 mm, the Crescent in Love Half Mala Necklace is thoughtfully designed for both comfort and style. Gracefully hanging at approximately 12 inches (30 cm), this unique piece of jewelry complements your neckline, enveloping you in the warm embrace of love's energy.
Exceptional Craftsmanship:
We take immense pride in the meticulous craftsmanship of each Crescent in Love Half Mala Necklace. Only premium gemstones are chosen to ensure their unique properties are harnessed effectively, creating a truly special piece that embodies love and compassion.
Meaningful Gift:
The Crescent in Love Half Mala Necklace makes a thoughtful and meaningful gift for yourself or a cherished loved one. Celebrate the power of love and self-acceptance on special occasions or moments of heartfelt connection.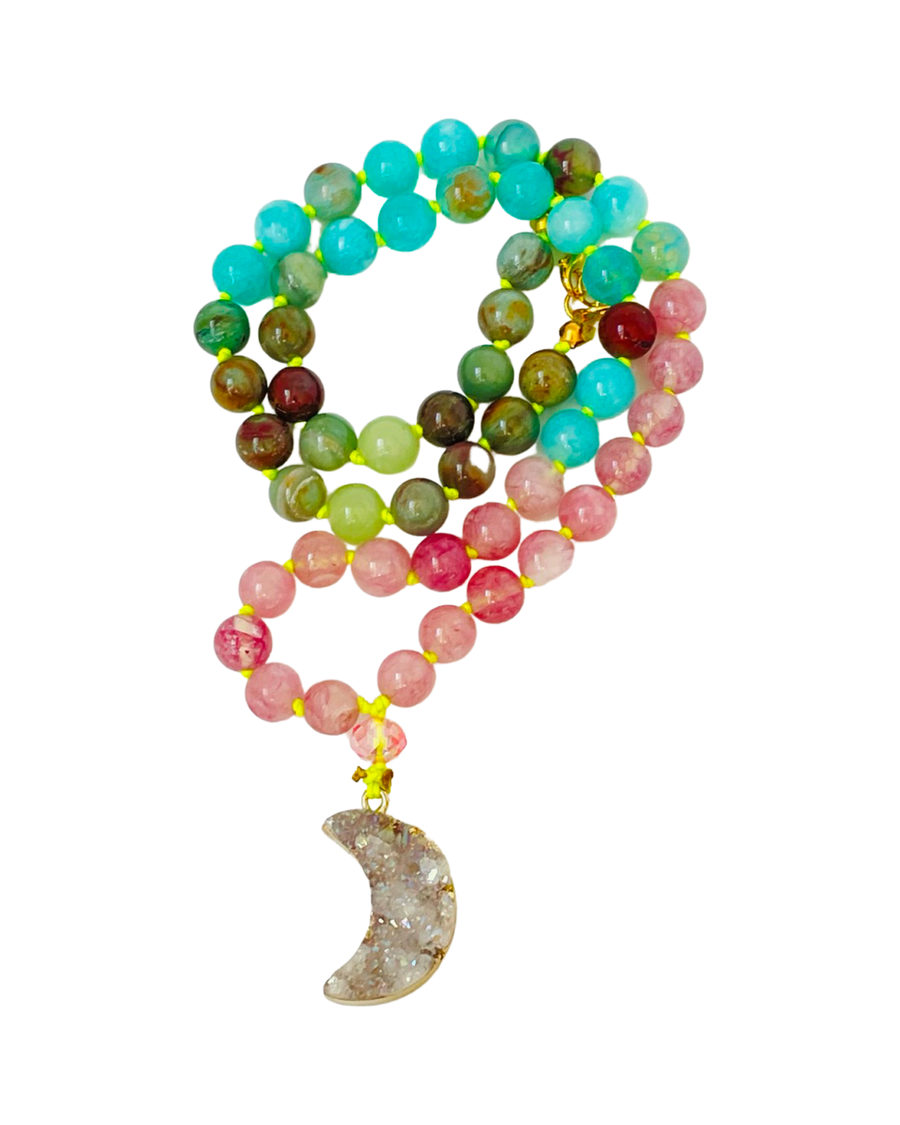 Packaging:
Your purchase includes the gemstone mala, a delicate baggie to preserve its energy, and an elegant box to safeguard and cherish your necklace when not in use. Additionally, a card with instructions on using your mala, intention setting, and gemstone properties is included, making it a complete and meaningful package.
Embrace the crescent moon's transformative energy and immerse yourself in the infinite power of love with our Crescent in Love Half Mala Necklace. Experience the profound joy of giving and receiving love unconditionally, both within and around you.