magickcollective
Heart Expanding Half Mala Necklace
Heart Expanding Half Mala Necklace
Unlock the power of love and connection with the Heart Expanding Half Mala Necklace, a radiant and meaningful accessory designed to bring joy, compassion, and unity into your life. Handcrafted with utmost care, this necklace embodies the essence of an open heart, radiating positive energy and beauty.
Radiant Gemstones: The Heart Expanding Half Mala Necklace showcases an array of radiant gemstones, carefully chosen to symbolize the colors of love and emotional growth. The vibrant blend of gemstones reflects the blossoming of the heart and the expansion of its capacity to love and connect.
Embrace Love and Compassion: With every bead, this necklace serves as a constant reminder to embrace love, compassion, and understanding. Let it inspire you to spread kindness, warmth, and acceptance to yourself and those around you.
Elevate Your Style: The elegant design of the Heart Expanding Half Mala Necklace effortlessly complements any outfit, allowing you to carry the essence of love and unity with you wherever you go. From casual to formal, it adds a touch of grace and meaning to your personal style.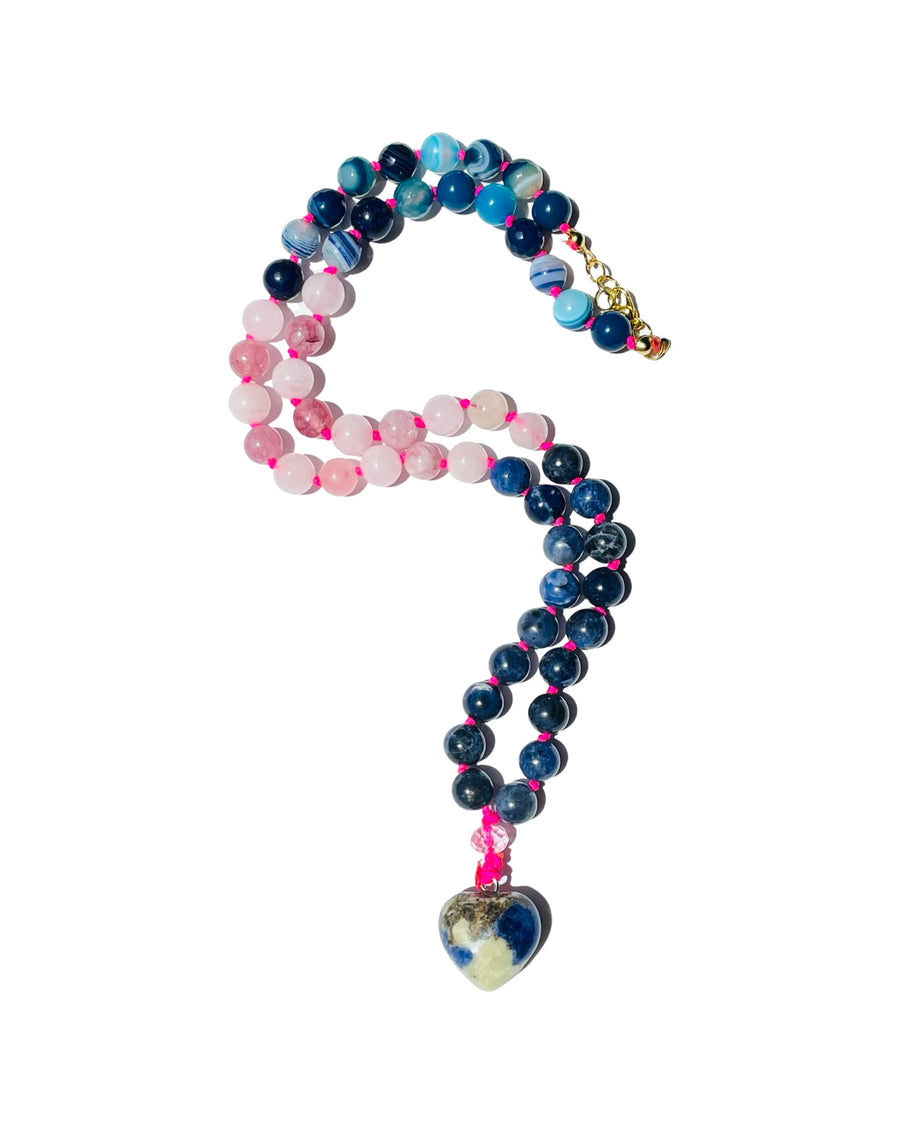 Gemstone Properties:
Madagascar Agate for Grounding: Embrace the grounding energies of Madagascar Agate, fostering emotional stability.
Pink & Strawberry Quartz for Love: Radiate pure love and compassion with the gentle energies of Pink & Strawberry Quartz.
Sodalite for Wisdom: Deep blue Sodalite promotes wisdom, self-awareness, and emotional release.
Sodalite Heart Pendant: Symbolizes the expansion of the heart's energy and the clarity of self-love.
How to Use Your Mala:
Each Half Mala comes with a comprehensive card guiding you on how to use it effectively during meditation and intention setting. The Heart Expanding Half Mala Necklace is more than just a beautiful accessory; it's a tool to embrace your creative essence and align your energy with self-assured success.
Size & Fit:
Featuring approximately 54 beads, each measuring 8 mm, the Heart Expanding Half Mala Necklace is thoughtfully designed for both comfort and style. Gracefully hanging at approximately 12 inches (30 cm), this unique piece of jewelry complements your neckline, empowering you to radiate confidence and creative vitality.
Handcrafted with Love: Each necklace is meticulously handcrafted by skilled artisans, ensuring precision and attention to detail. The loving craftsmanship behind every bead infuses the accessory with positive energy and intention.
Spiritual Connection: This half mala necklace is not only a beautiful adornment but also a spiritual tool to enhance your meditation and mindfulness practices. Let it guide you to open your heart and embrace a deeper sense of inner peace.
Meaningful Gift: Share the power of an expanded heart with loved ones by gifting them the Heart Expanding Half Mala Necklace. It serves as a touching symbol of love, friendship, and the unifying bond between souls.
Eco-Friendly Packaging: We are committed to sustainability, and the Heart Expanding Half Mala Necklace comes in eco-friendly packaging, reflecting our dedication to protecting the environment.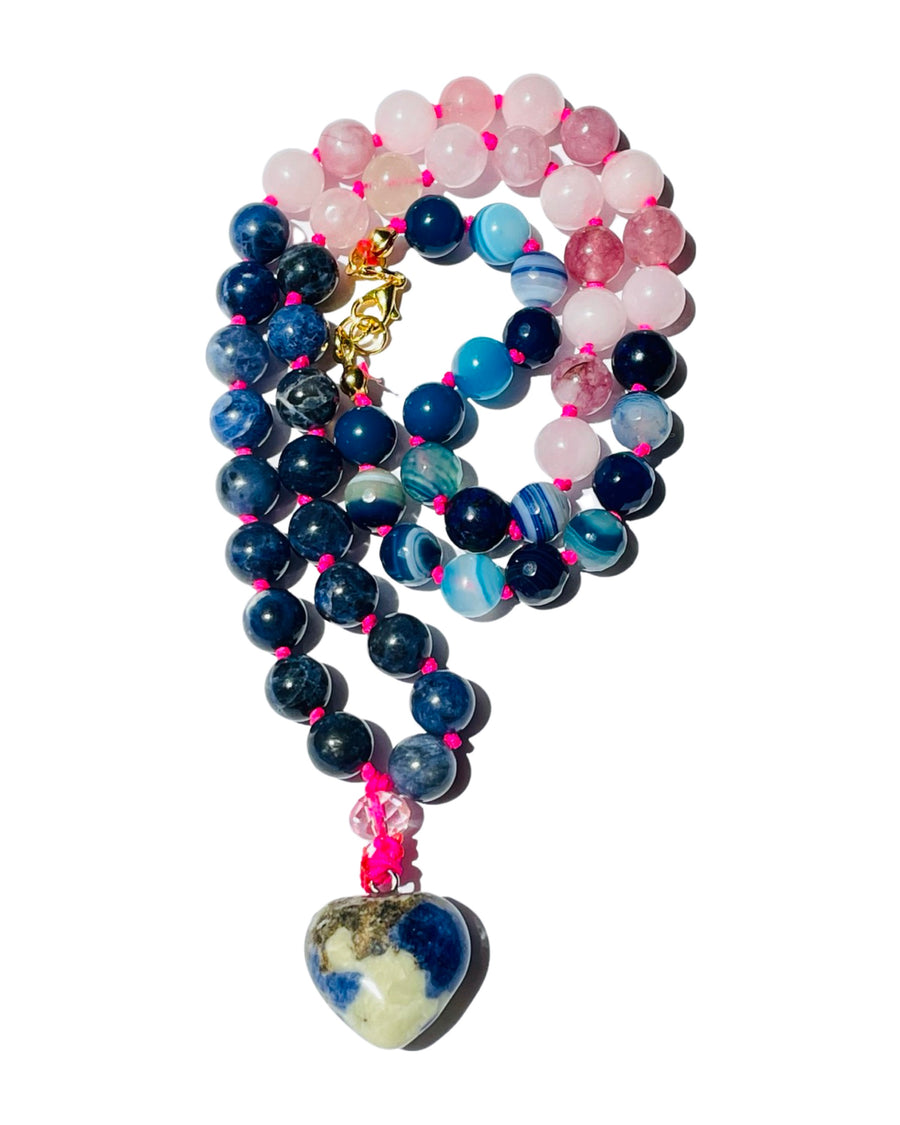 Open your heart to the transformative power of love, compassion, and unity with the Heart Expanding Half Mala Necklace. Embrace the radiant gemstones, the loving craftsmanship, and the profound meaning it carries, as it becomes an embodiment of your journey towards a heart that expands with boundless love and connection.