magickcollective
Honey Lover Half Mala Necklace
Honey Lover Half Mala Necklace
Indulge in the Warm Embrace of Sweetness: The Honey Lover Half Mala Necklace is a captivating jewelry piece that embodies the essence of sweetness and elegance. Inspired by the richness of honey and the enchanting allure it carries, this exquisite necklace is a celebration of life's simple pleasures and the joy they bring.
Handcrafted with Meticulous Artistry: Each Honey Lover Half Mala Necklace is a labor of love, meticulously handcrafted by skilled artisans. With a keen eye for detail, the necklace is fashioned using high-quality materials, ensuring a stunning and enduring accessory that will become a cherished part of your collection.
Radiate Warmth, Affection, and Love: Glistening with the golden hues of honey, this necklace symbolizes warmth, affection, and love. Just as honey spreads sweetness wherever it goes, the Honey Lover Half Mala Necklace serves as a beautiful reminder to share love and positivity with the world.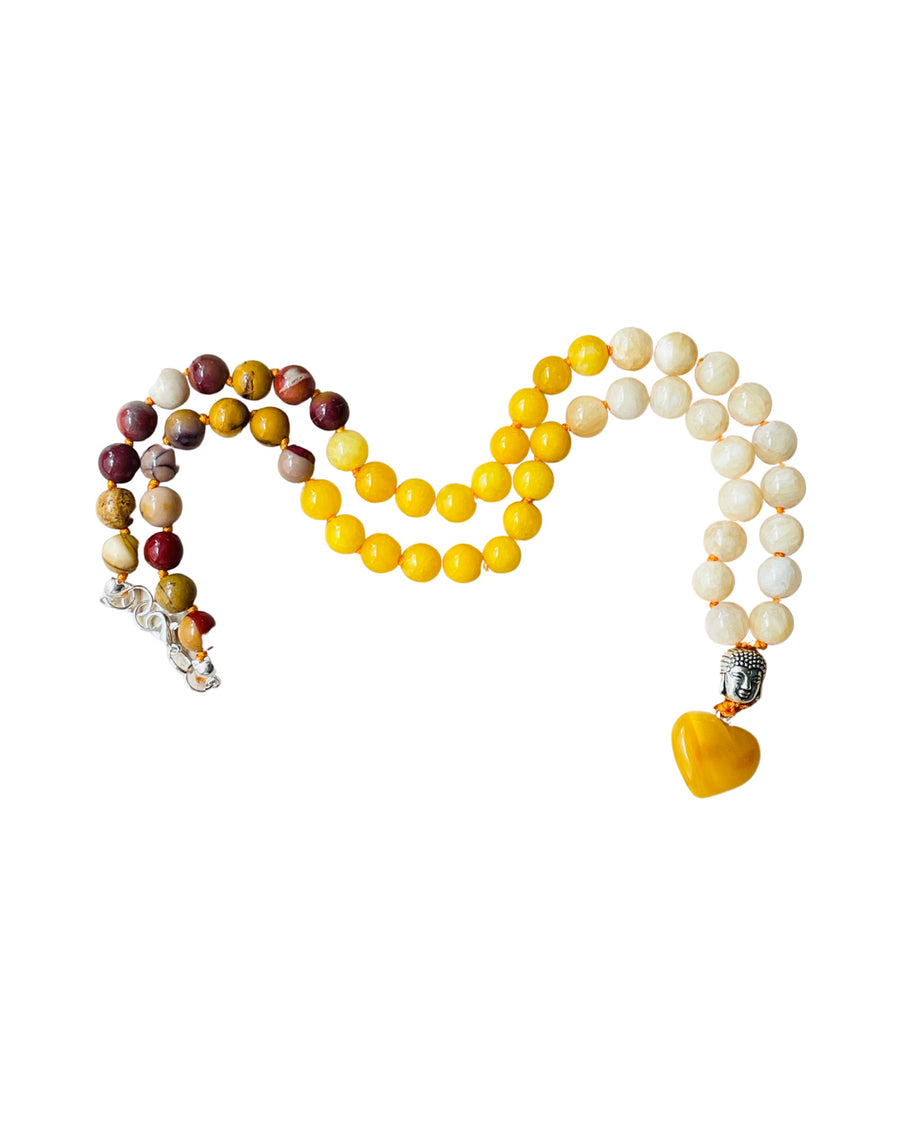 Gemstone Properties:
Mookaite Jasper for Grounding: Embrace the grounding energies of Mookaite Jasper, fostering stability and adventure.
Amber for Uplifting Vibes: Experience the uplifting properties of Amber, bringing warmth and positivity to your spirit.
Citrine for Abundance: Invite abundance and joy into your life with the vibrant energy of Citrine.
Heart-shaped Amber Pendant: Symbolizes love, radiance, and the warmth of the honeyed hues.
How to Use Your Mala:
Each Half Mala comes with a comprehensive card guiding you on how to use it effectively during meditation and intention setting. The Honey Lover Half Mala Necklace is more than just a beautiful accessory; it's a tool to embrace your creative essence and align your energy with self-assured success.
Size & Fit:
Featuring approximately 54 beads, each measuring 8 mm, the Honey Lover Half Mala Necklace is thoughtfully designed for both comfort and style. Gracefully hanging at approximately 12 inches (30 cm), this unique piece of jewelry complements your neckline, empowering you to radiate confidence and creative vitality.
Versatility Meets Sophistication: The necklace's versatility allows it to complement a wide range of outfits and occasions. Whether you drape it as a single or double strand necklace or elegantly wrap it around your wrist, this accessory adds a touch of grace and sophistication to your style.
A Thoughtful and Heartfelt Gift: The Honey Lover Half Mala Necklace makes a perfect gift for those who cherish life's sweetness and the moments of love and connection it brings. It is a meaningful present that conveys affection and positivity to your loved ones.
Embrace the Gentle Energy: Embrace the gentle energy of the Honey Lover Half Mala Necklace, inviting a positive outlook on life. Let its radiant charm uplift your spirits and attract love and happiness into your life.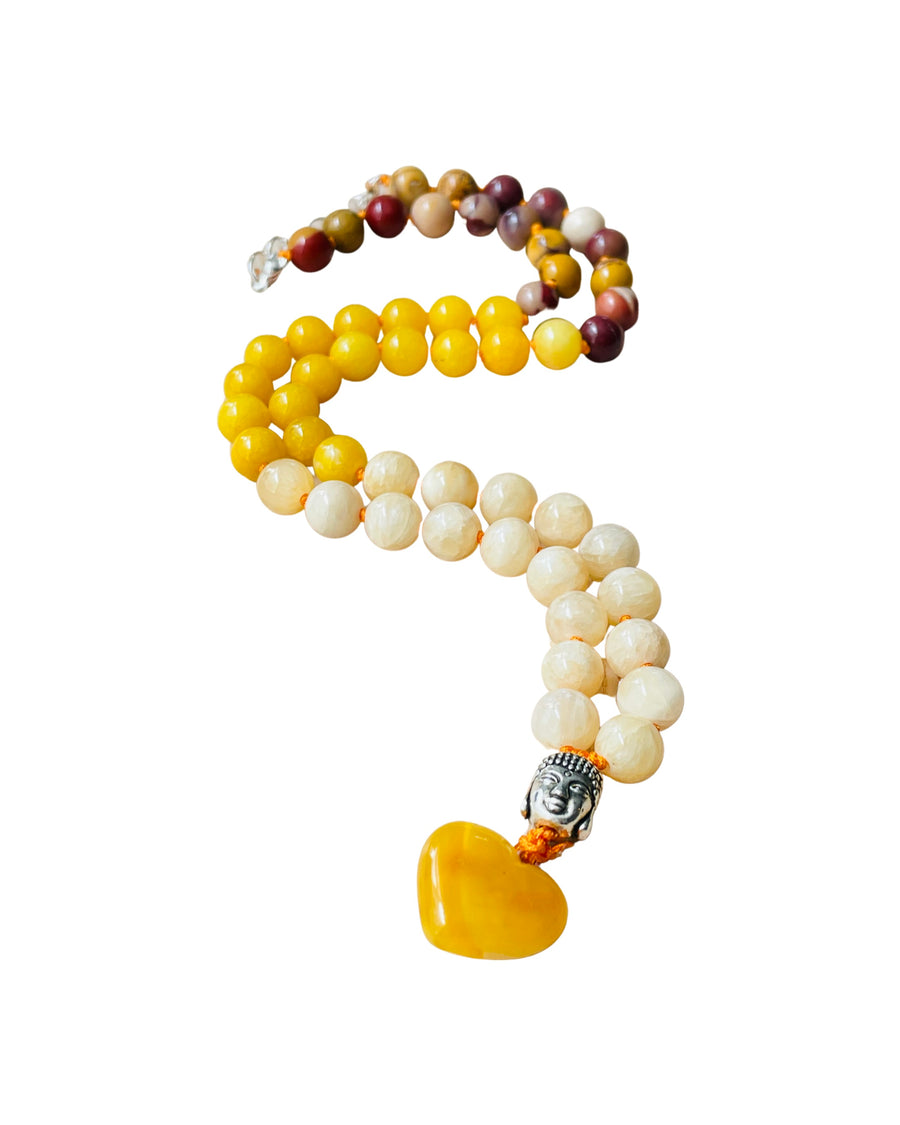 Celebrate Life's Sweet Moments in Style: With the Honey Lover Half Mala Necklace, you celebrate life's sweet moments in style. Whether you are commemorating a special occasion or relishing the simple pleasures of daily life, this necklace becomes a cherished companion.
More Than Just Fashion: A Symbol of Love: Beyond being a fashion statement, the Honey Lover Half Mala Necklace embodies the joy of giving and receiving love, spreading happiness like the nectar of honey.
Discover Delight in Simplicity: Discover the delight of simplicity and appreciate life's sweetness with the Honey Lover Half Mala Necklace. Embrace its enchanting charm, and let it serve as a daily reminder to treasure each moment and find joy in the beauty that surrounds you.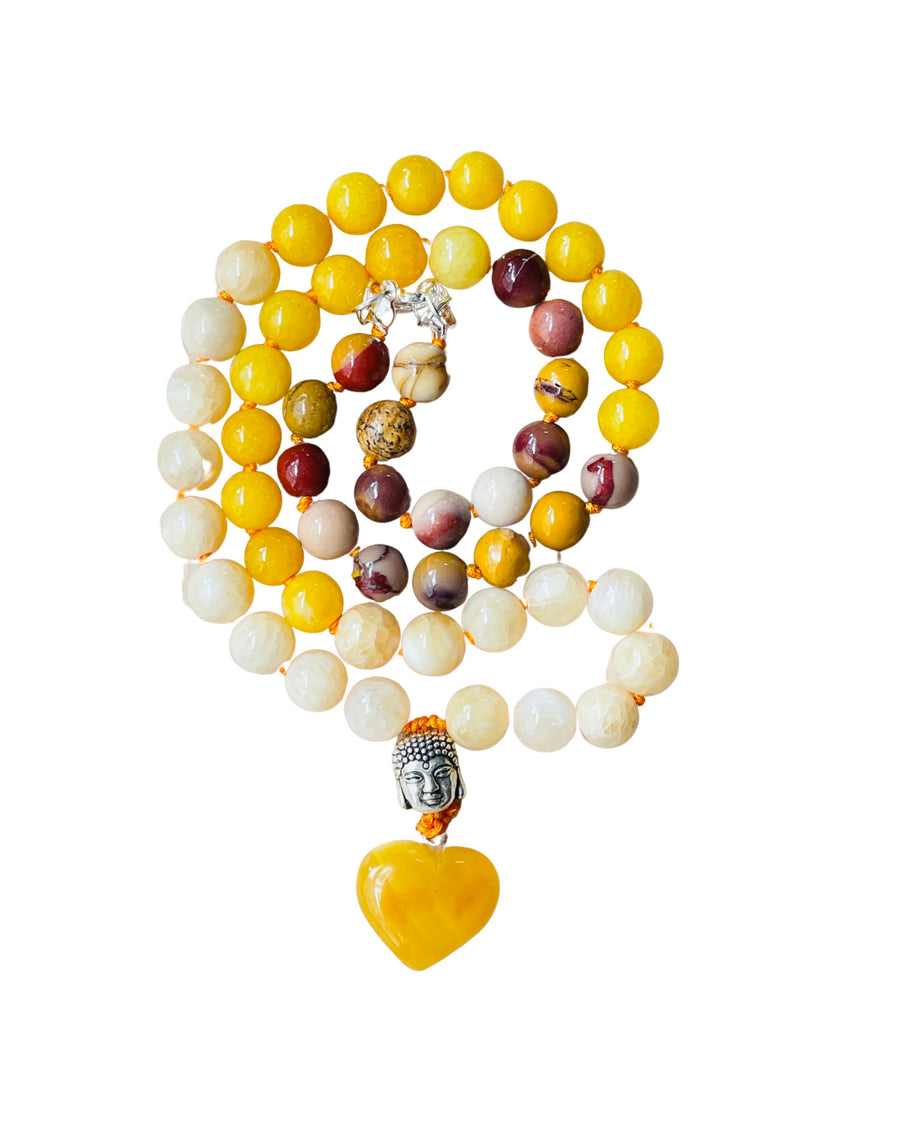 Elevate Your Style and Spirit: Elevate your style and spirit with the Honey Lover Half Mala Necklace, reflecting the warmth and love you carry in your heart. Embrace the allure of this captivating accessory and let it be a daily reminder of the sweetness and joy that surrounds you.