magickcollective
I Am Vibrant Half Mala Necklace
I Am Vibrant Half Mala Necklace
Unleash your vibrant energy and inner radiance with the "I Am Vibrant" Half Mala Necklace, a captivating and empowering accessory designed to celebrate your uniqueness and zest for life. Handcrafted with love and attention to detail, this necklace exudes an aura of positivity and confidence.
Gemstones:
Red Agate - Passionate Vitality: Feel the fiery energy of Red Agate, infusing passion and vitality into your essence. This stone stimulates the root chakra, providing a sense of grounding while igniting the flame of passion within. Wear it proudly to amplify your vibrant spirit and express your inner fire.
Mookaite Jasper - Earthly Resilience: Ground yourself in the earthly energies of Mookaite Jasper. Known for its rich, earthy hues, Mookaite Jasper promotes resilience and a connection to the natural cycles of life. Let the grounding properties of this stone empower you, fostering a sense of stability and vitality.
Calcite - Energizing Clarity: Experience the revitalizing clarity of Calcite. This crystal amplifies energy, promoting mental clarity and removing stagnant energy patterns. Let Calcite infuse your mind and spirit with a renewed sense of purpose, guiding you toward vibrant self-expression.
Sunstone Pendant - Radiant Confidence: At the heart of this necklace hangs a Sunstone Pendant, radiating the energizing warmth of the sun. Sunstone is known for enhancing confidence, joy, and vitality. Let the Sunstone Pendant be a symbolic reminder to shine brightly, embracing your true and vibrant self.
Embrace Your Vibrancy: The "I Am Vibrant" Half Mala Necklace is a celebration of your vibrant spirit and zest for life. It serves as a reminder to embrace your uniqueness, shine brightly, and radiate positivity wherever you go.
Lively Gemstone Beads: Adorning the necklace are carefully chosen gemstone beads, each reflecting a lively and vivid hue. The vibrant colors symbolize the richness of life's experiences and the beauty of individuality.
Embody Inner Radiance: Let the "I Am Vibrant" Half Mala Necklace be a reflection of your inner radiance and self-assurance. Wear it as a talisman to boost your confidence and to express your authentic self to the world.
Versatile and Stylish: The "I Am Vibrant" Half Mala Necklace effortlessly complements your style, adding a pop of color and positive energy to both casual and formal ensembles.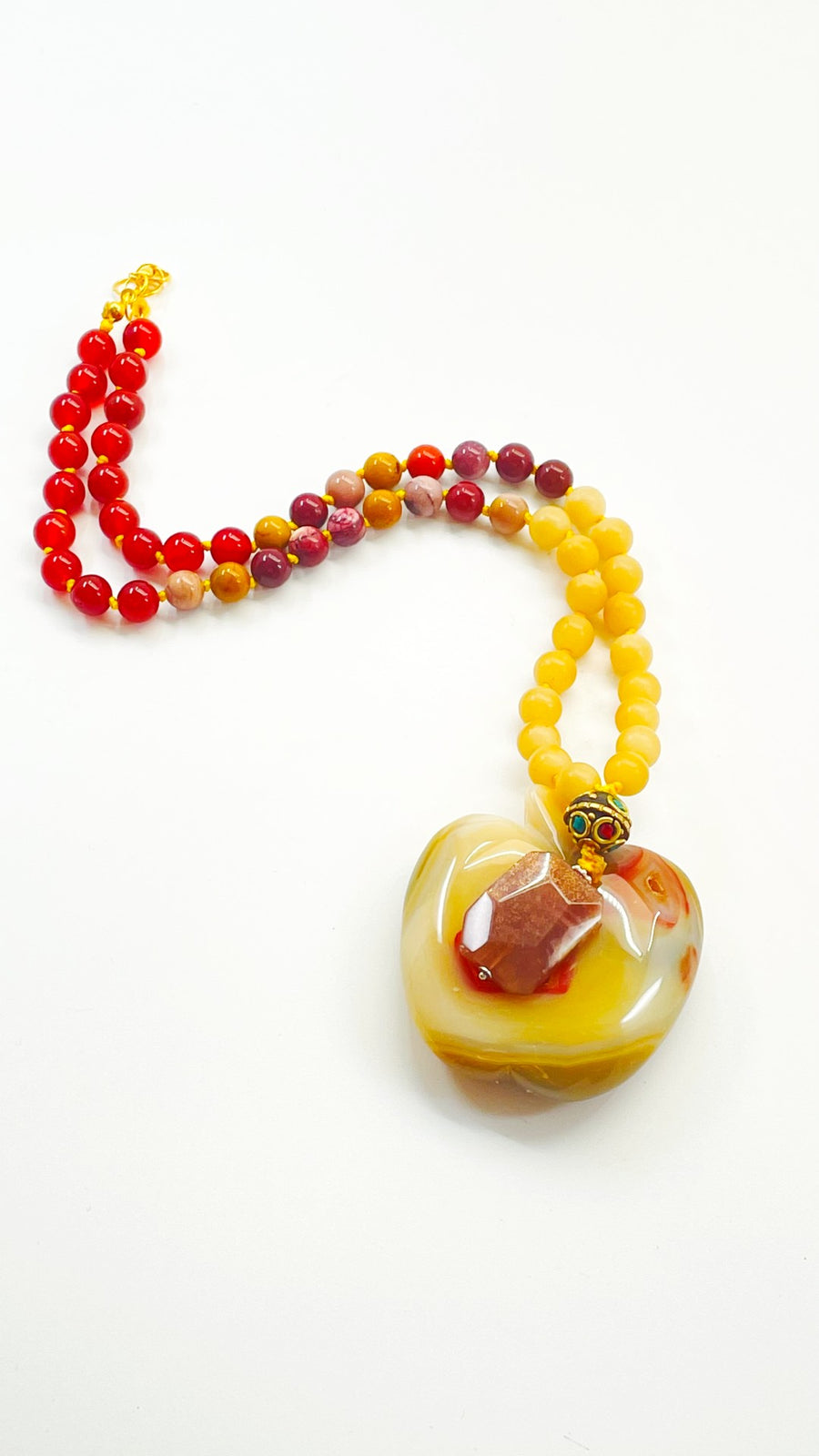 How to Use Your Mala:
Each Half Mala comes with a comprehensive card guiding you on how to use it effectively during meditation and intention setting. The I Am Vibrant Half Mala Necklace is more than just a beautiful accessory; it's a tool to embrace your creative essence and align your energy with self-assured success.
Size & Fit:
Featuring approximately 54 beads, each measuring 8 mm, the I Am Vibrant Half Mala Necklace is thoughtfully designed for both comfort and style. Gracefully hanging at approximately 12 inches (30 cm), this unique piece of jewelry complements your neckline, empowering you to radiate confidence and creative vitality.
Handcrafted with Love: Each necklace is lovingly handcrafted by skilled artisans, ensuring a high level of craftsmanship and attention to detail. The smooth gemstone beads embody the essence of your vibrant and polished spirit.
Inspire Positivity: Embrace the vibrant energy of the "I Am Vibrant" Half Mala Necklace and let it inspire a positive outlook, encouraging you to embrace life's adventures with enthusiasm and joy.
Thoughtful Gift: Share the gift of vibrancy and positivity with loved ones, making the "I Am Vibrant" Half Mala Necklace a meaningful and empowering present for birthdays, graduations, or any occasion that calls for a celebration of life.
Eco-Friendly Packaging: We are committed to sustainability, and the "I Am Vibrant" Half Mala Necklace comes in eco-friendly packaging, reflecting our dedication to caring for the environment and the vibrant spirit of life.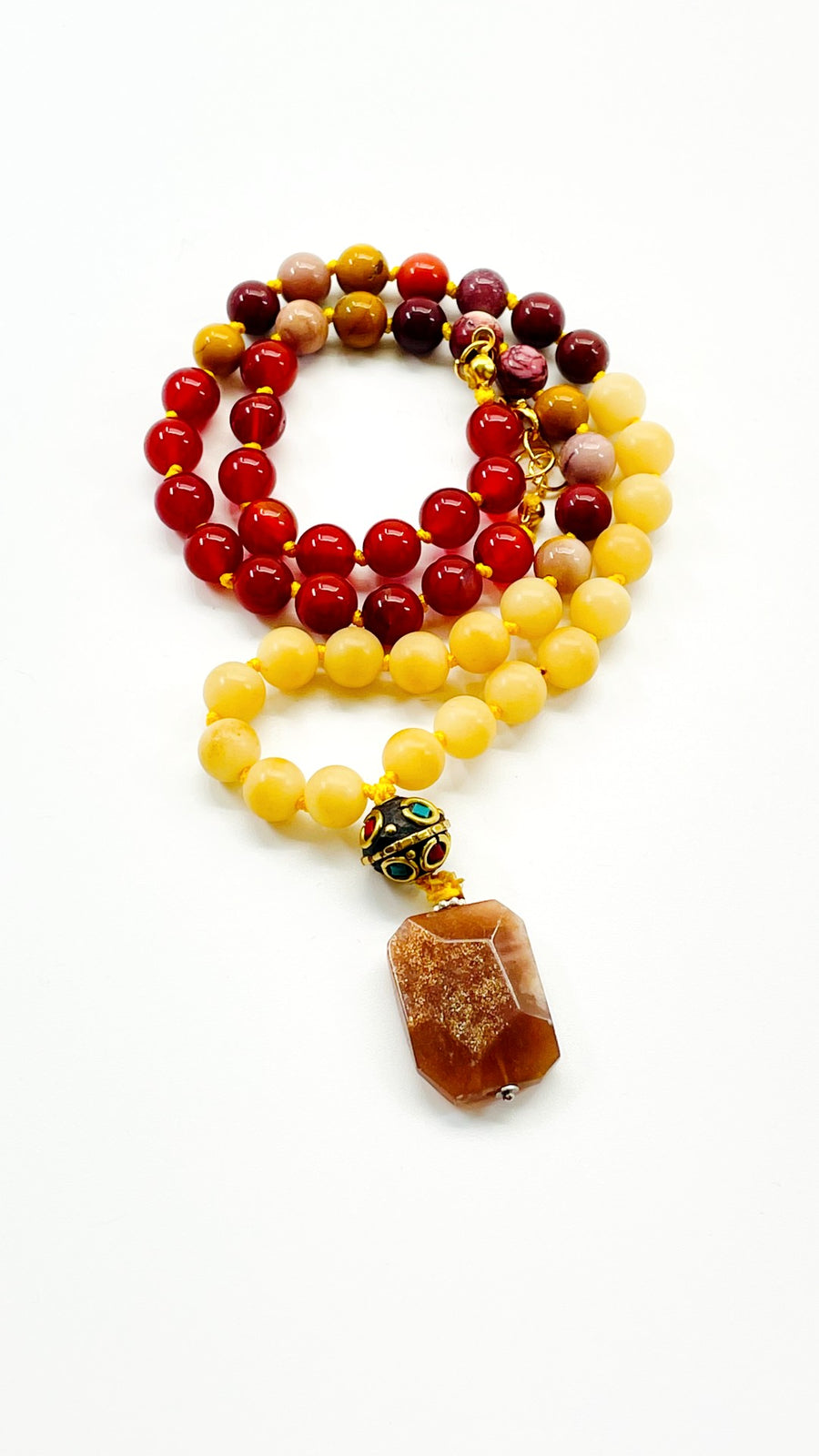 Embrace the vibrant energy of the "I Am Vibrant" Half Mala Necklace and let it serve as a radiant expression of your inner glow. Allow its lively gemstone beads and empowering design to ignite your confidence and inspire a life filled with positivity and celebration of your unique and vibrant self.