Magickcollective
Labradorite Chunky Bracelet
Labradorite Chunky Bracelet: The Mystic and Beautiful Stone Of Transformation
Enchanting Labradorite: The iridescent play of colors captures the essence of mystique and transformation. Labradorite is renowned for its enchanting play of colors, and this bracelet is a celebration of its natural allure.
Chunky and Striking Design: The Labradorite beads are carefully cut and polished, resulting in a chunky and bold design that catches the eye. The larger beads add a touch of extravagance to your overall look, making it a versatile piece that complements both casual and formal attire.
Comfortable to Wear: Crafted with comfort in mind, this bracelet is strung on a sturdy elastic cord that ensures a secure fit on most wrist sizes. Say goodbye to fussy clasps and adjustable straps, and embrace the simplicity and ease of wearing this fashionable bracelet.
Intuitive Energy: Labradorite is believed to enhance intuition and promote self-discovery. Our Labradorite Chunky Gemstone Bracelet is more than just jewelry; it's a symbol of transformation and self-discovery.

Unisex Appeal: The Labradorite Chunky Bracelet is a unisex piece that suits anyone seeking a touch of elegance and tranquility in their life. It makes an ideal gift for loved ones, friends, or yourself on any special occasion.
Chakra Alignment: Labradorite is a Third Eye Chakra stone, enhancing visualization skills and opening one up to clairvoyance. The stone is excellent for developing psychic abilities such as clairaudience, clairvoyance, and lucid dreaming. Wearing this bracelet may help align and balance these energy centers.
Versatile and Stackable: The Labradorite Chunky Bracelet can be effortlessly paired with other bracelets to create a stacked look that is both trendy and fashionable. Mix and match with different gemstones or metal accessories to express your unique style.
Handcrafted with Care: Each bracelet is individually handcrafted by skilled artisans, ensuring attention to detail and a high-quality finish. Embrace the authenticity and uniqueness of a handcrafted piece that reflects the artistry and passion of its creators.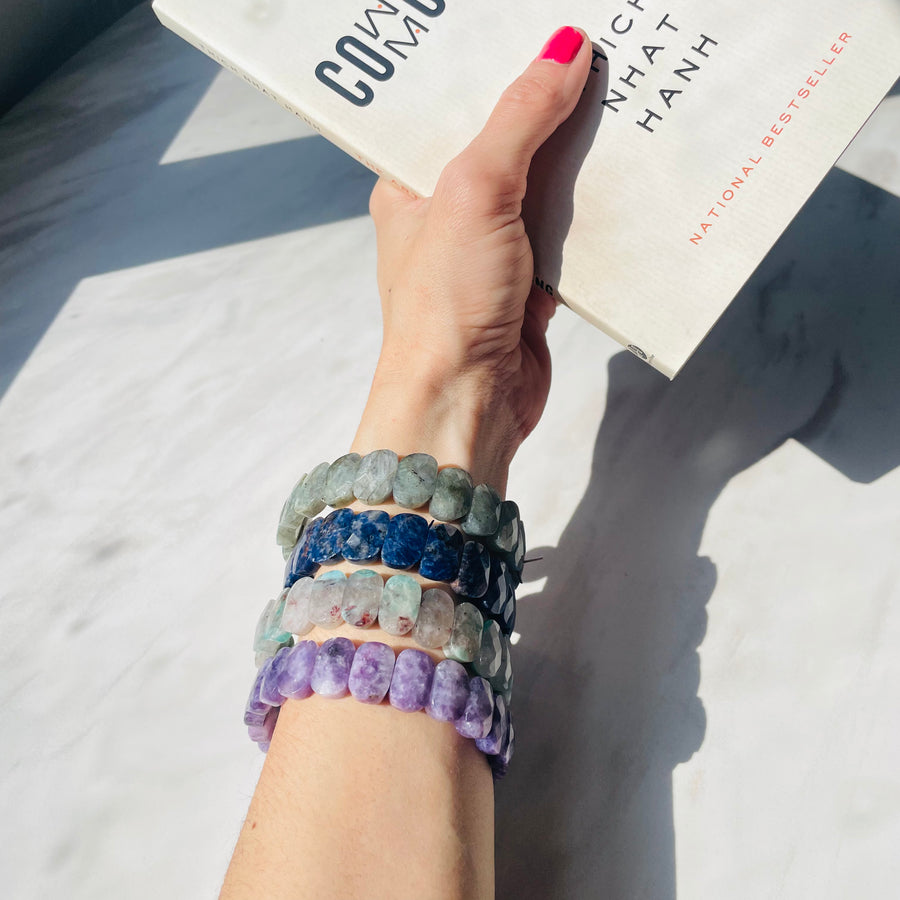 Natural Gift Choice: This bracelet comes beautifully packaged, making it an ideal gift choice for birthdays, anniversaries, holidays, or any celebration. Give the gift of tranquility and style to someone special in your life.
Enhance Your Inner Beauty: Beyond its aesthetic appeal, the Lepidolite Chunky Bracelet encourages you to embrace your inner beauty, radiate positive energy, and approach life with a calm and composed spirit.
Add a touch of harmony to your daily ensemble with the Lepidolite Chunky Bracelet. Embrace its soothing energy and make a bold statement in style.