magickcollective
Lotus Half Mala Necklace
Lotus Half Mala Necklace
Product Description:
Embrace Tranquility and Elegance: The Lotus Half Mala Necklace is a stunning piece of jewelry that combines tranquility with elegance. Inspired by the beauty and symbolism of the lotus flower, this necklace is a reflection of inner peace and spiritual growth.
Handcrafted with Precision: Each Lotus Half Mala Necklace is meticulously handcrafted with precision and care by skilled artisans. The necklace is made with high-quality materials, ensuring a durable and exquisite piece that you can wear with confidence.
Gemstone Properties:
Sodalite for Inner Peace: Embrace the calming energies of Sodalite, promoting tranquility and communication.
Crystalized Clear Quartz for Clarity: Amplify your intentions with the clarity-enhancing properties of Clear Quartz.
Aquamarine for Soothing Energy: Experience the serenity of Aquamarine, inviting calmness and balance.
Lotus Flower Pendant: Symbolizes purity and enlightenment, inspiring your spiritual journey.
How to Use Your Mala:
Each Mala comes with a handy card detailing how to use it effectively during meditation and intention setting. We believe that your mala can be a powerful tool in your daily mindfulness practice, helping you focus your intentions and manifest positive energy.
Size & Fit:
The Mala features approximately 54 beads, each measuring 8 mm in size, carefully chosen for their energetic properties. With a length of approximately 12 inches (30 cm), this unique piece of jewelry is thoughtfully designed to fit comfortably, allowing you to carry its positive energy throughout your day.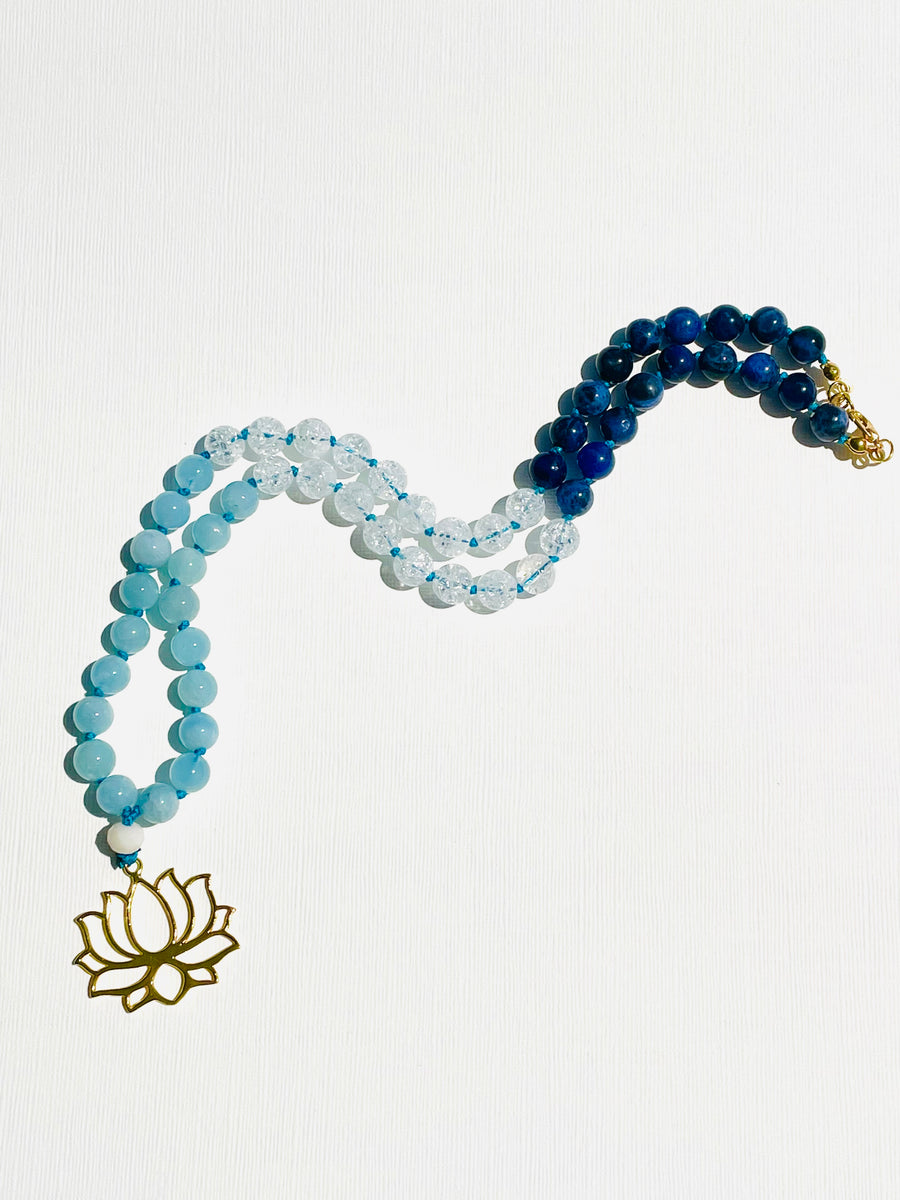 Soothing Gemstones: The Lotus Half Mala Necklace incorporates soothing gemstones, carefully selected for their healing properties. Whether it's calming Aquamarine, clearing Quartz, or Sodalite, each gemstone enhances the necklace's energy and adds a touch of natural beauty to your attire.
Versatile Wear: The Lotus Half Mala Necklace is a versatile accessory that can be worn in multiple ways. You can wear it as a single or double strand necklace, or wrap it around your wrist as a stylish bracelet. This adaptability allows you to effortlessly elevate your look, whether for a casual outing or an elegant evening affair.
Mindful Gift: Delight your loved ones with the gift of tranquility and style. The Lotus Half Mala Necklace makes a thoughtful and meaningful gift for anyone seeking harmony, spiritual connection, or a beautiful piece of jewelry to cherish.
Balance and Center Your Being: Whether you practice meditation regularly or wish to cultivate a sense of calm in your daily life, the Lotus Half Mala Necklace can be your companion in finding balance and centering your being. Let its positive energy encourage mindfulness and inner reflection.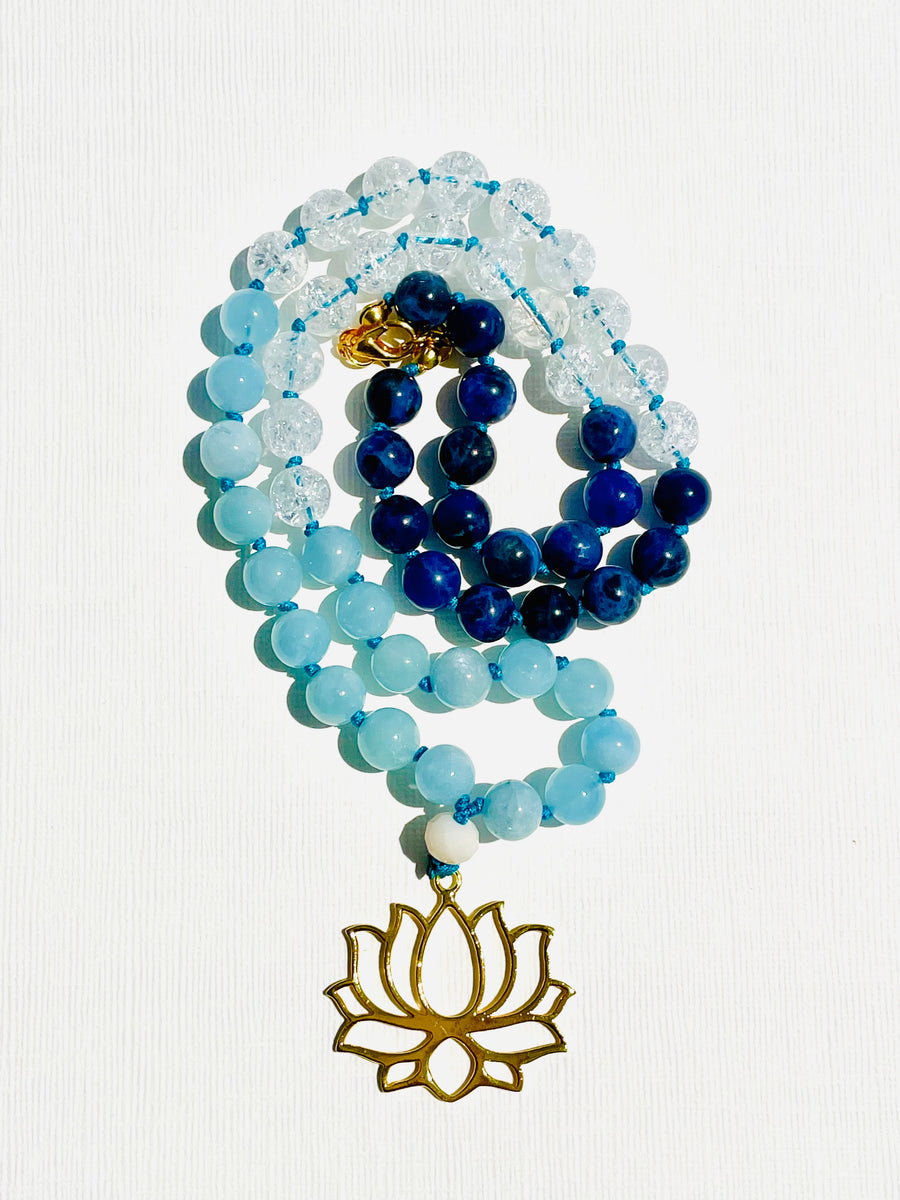 Inspired Style: The Lotus Half Mala Necklace effortlessly blends timeless elegance with a touch of spiritual inspiration. Its exquisite design complements various outfits and occasions, making it a must-have accessory for those who appreciate beauty with meaning.
Cherish the Journey: Just like the lotus flower's journey from the depths of muddy waters to the surface, the Lotus Half Mala Necklace reminds us to cherish our own life journey, embracing every experience as an opportunity for growth and transformation.
Elevate your style and embrace the serenity of the Lotus Half Mala Necklace. Let its enchanting design and profound symbolism enhance your inner peace and elevate your spirit on every step of your journey.