Magickcollective
Maxi Baroque Pearl Statement Necklace
Maxi Baroque Pearl Statement Necklace
Discover the allure of effortless elegance with our Maxi Baroque Pearl Statement Necklace. This exquisite piece pays homage to our designer's mother, serving as a heartfelt and eclectic reflection of the love and admiration we hold for the special women in our lives. Embrace the timeless beauty and sophistication of this necklace, designed to capture hearts and evoke emotions.


Meticulously crafted from carefully selected Baroque pearls of the highest purity, each pearl possesses its unique and organic shape, adding a touch of natural charm to the necklace. Complemented by colorful crystals, this stunning combination creates a harmonious symphony of elegance that will never go out of style.

Details:
Length: 17 inches with a 2-inch extension.
Closure: 22K Gold Plated 925 Sterling Silver

The Maxi Baroque Pearl Statement Necklace exudes a sense of grace and poise, making it a perfect accessory for any occasion. Whether you're attending a formal event or adding a touch of sophistication to your daily attire, this necklace will seamlessly elevate your look.


The 17-inch length gracefully drapes around your neckline, accentuating your collarbone with timeless beauty. Should you desire a bit of flexibility in length, the 2-inch extension allows for easy adjustment to suit your preference.
Completing the necklace is a 22K Gold Plated 925 Sterling Silver closure, not only ensuring a secure and reliable fastening but also adding a touch of luxury to the design.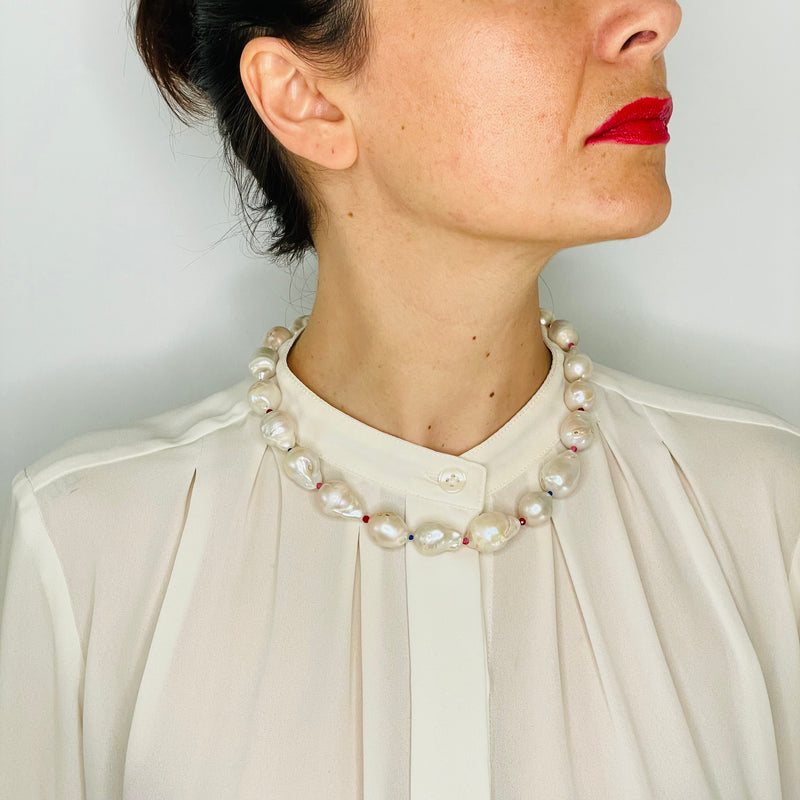 Embrace the sentimental value and exquisite craftsmanship of the Maxi Baroque Pearl Statement Necklace.Let this timeless piece serve as a symbol of the cherished bond between mothers and their loved ones, or simply relish in its innate elegance and versatility. Elevate your style and carry a piece of heartfelt beauty wherever you go with this extraordinary necklace that encapsulates the love and inspiration behind its creation.