Magickcollective
Moonstone Beaded Bracelet
Moonstone Beaded Bracelet: A Celestial Elegance
Radiate Celestial Charm: Step into the enchanting world of celestial beauty with our Moonstone Beaded Bracelet. The mesmerizing play of light and iridescence in the moonstone beads will leave you captivated and bring a touch of celestial charm to your wrist.
Genuine Moonstone Beads: Crafted with genuine moonstone beads, each bracelet is a unique creation of nature. The beads showcase a lustrous glow, reflecting the mystical allure of the moon itself.
Handcrafted with Precision: Our skilled artisans have carefully handcrafted each bracelet, ensuring attention to detail and a high level of precision. The result is a bracelet that exudes elegance and quality.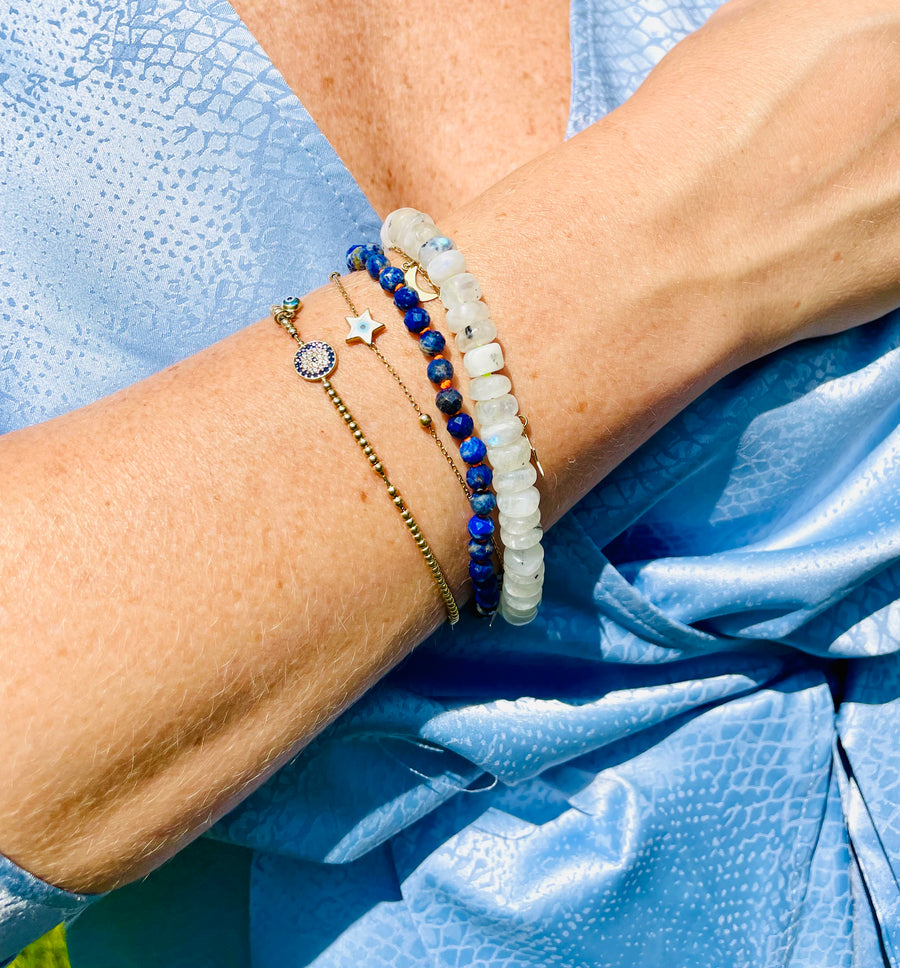 Adjustable and Comfortable: The bracelet features an adjustable design, making it suitable for most wrist sizes. It sits comfortably on your wrist, allowing you to wear it for extended periods without any discomfort.
Versatile and Stylish: Whether you're dressing up for a special occasion or adding a touch of elegance to your everyday look, this moonstone beaded bracelet effortlessly complements various outfits and styles.
Meaningful Gift: A moonstone bracelet makes for a thoughtful and meaningful gift for loved ones. It symbolizes intuition, harmony, and new beginnings, making it a perfect token of love and good wishes.
Enhance Spirituality: Moonstones are associated with spiritual properties, believed to enhance intuition and promote inner growth. Wearing this bracelet can serve as a reminder of your spiritual journey and connection to the universe.
Durable and Long-lasting: Crafted with quality materials and a sturdy elastic cord, this bracelet is built to withstand daily wear. Enjoy its celestial beauty for years to come.
Beautiful Packaging: The Moonstone Beaded Bracelet comes in a beautifully designed box, making it an excellent gift choice for special occasions like birthdays, anniversaries, or festivals.
Embrace the Celestial: Invite the ethereal beauty of the moon into your life with our Moonstone Beaded Bracelet. Embrace the celestial energy and experience a sense of tranquility and grace with every wear.
Indulge yourself or surprise someone special with this exquisite Moonstone Beaded Bracelet and cherish the celestial elegance it brings to your life.