Magickcollective
New Beginnings Beaded Moonstone Necklace
New Beginnings Beaded Moonstone Necklace
Elevate your style with the enchanting New Beginnings Beaded Moonstone Necklace, a captivating piece that brings a touch of celestial beauty to your look. Delicate clusters of shimmering moonstone beads gracefully adorn a dainty chain, promising to elevate any outfit with timeless elegance.
Details:
Length: 15 inches with a 2-inch extension
Closure: 22K Gold Plated 925 Sterling Silver
Exquisite Beauty of Moonstone
Let the ethereal beauty of moonstone take center stage as you wear our New Beginnings Necklace. Each bead shimmers with a mesmerizing play of light, reflecting the mysterious allure of the moon and its celestial glamour.
A Symbol of New Beginnings
Embrace the symbolism of new beginnings as you don this captivating necklace. Moonstone is believed to carry the energy of renewal and change, making this necklace a meaningful accessory for starting fresh and embarking on new journeys.
Timeless Elegance and Classic Luxury
Combining classic luxury with celestial glamour, our New Beginnings Beaded Moonstone Necklace is a testament to exquisite craftsmanship and attention to detail. Its delicate design exudes sophistication, ensuring that it remains a treasured piece in your collection for years to come.
A Versatile Statement Piece
The 15-inch length of the necklace drapes gracefully around your neckline, effortlessly enhancing your natural beauty. The 2-inch extension adds versatility, allowing you to adjust the length to suit your preference and style.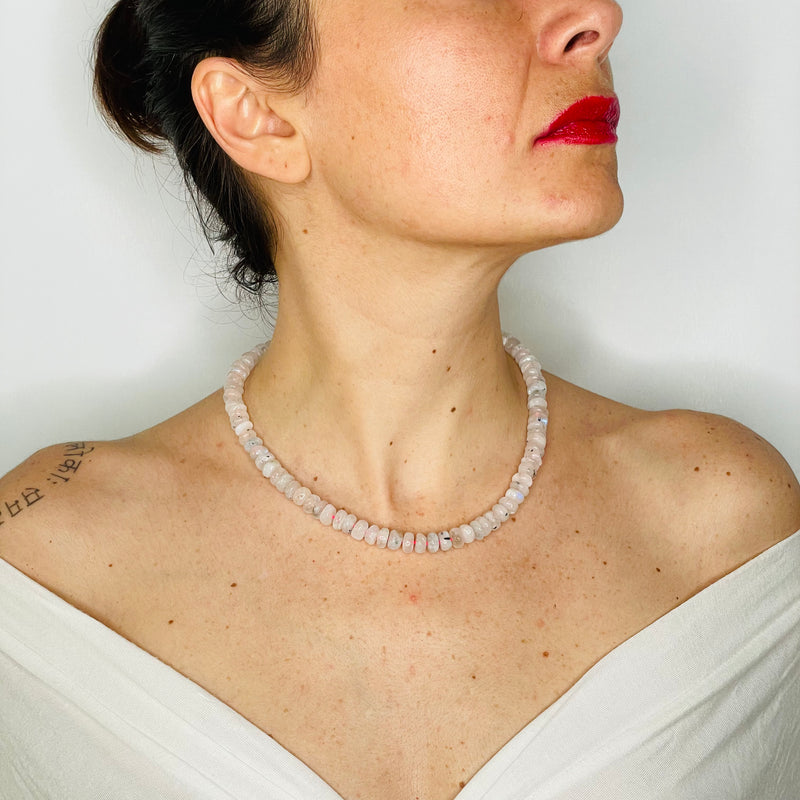 Secure Closure with a Touch of Luxury
The 22K Gold Plated 925 Sterling Silver closure not only ensures a secure fastening but also adds a touch of luxury to the overall design. The fusion of elegance and practicality complements the celestial essence of the moonstone beads.
Embrace Celestial Beauty
Embrace the celestial beauty and allure of our New Beginnings Beaded Moonstone Necklace. Let it be a reminder that every day brings new opportunities and the chance to shine with celestial glamour and grace.
An Extraordinary Gift
Make a meaningful gesture with this exquisite necklace, perfect for gifting on special occasions or to mark significant milestones. Let it be a symbol of hope and new beginnings, carrying positive energy and heartfelt wishes.
Step into the Spotlight
Step into the spotlight with our New Beginnings Beaded Moonstone Necklace, radiating celestial glamour and timeless elegance with every step you take. Embrace the allure of moonstone and let this extraordinary piece be a reflection of your inner light and newfound beginnings.
Make a Lasting Impression
Make a lasting impression with the New Beginnings Beaded Moonstone Necklace, a statement piece that not only complements your style but also embodies the promise of transformation and the magic of new chapters. Elevate your look with this captivating necklace, a celestial treasure that embraces the beauty of fresh starts and endless possibilities.