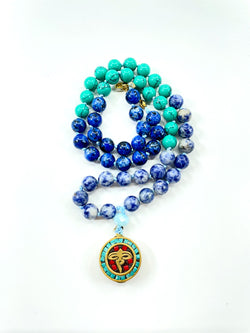 magickcollective
Peaceful Thoughts Half Mala Necklace
I trust and follow my intuition. I am connected to my true path and purpose. I am connected with the wisdom of the universe. My third eye chakra is balanced.
This purchase includes: Gemstone Half Mala, baggie, card including using your mala, intention setting and properties.
GEMSTONES
Azurite: Azurite boosts intuition and spiritual wisdom by helping to clear the mind of negative psychic debris and thought patterns that are no longer serving you.
Turquoise: Turquoise is a purification stone. It dispels negative energy and can be worn to protect against outside influences or pollutants in the atmosphere. Turquoise balances and aligns all the chakras, stabilizing mood swings and instilling inner calm.
Sodalite: Sodalite brings order and calmness to the mind. It encourages rational thought, objectivity, truth and intuition, along with verbalization.
Tibetan Buddha Eye Pendant: Also known as Wisdom Eyes symbolizes the omniscience (all-seeing) of a Buddha.
*These products are not intended to diagnose, treat, cure or prevent any disease. The results are the sole responsibility of the wearer*
Size & Fit
54 beads at 8 mm each.
Hangs 30 cm. Length is approximate as each piece of jewelry is unique.