magickcollective
Serenity Necklace
Serenity Necklace
Immerse yourself in a world of serenity and spiritual elegance with our "Serenity Elegance" Necklace. This exquisite ensemble of gemstones is thoughtfully selected to infuse tranquility and beauty into your daily journey.
Key Gemstone Properties:
Kyanite - Crystal of Serenity: Kyanite is often referred to as the "Stone of Serenity." Its calming and tranquil energy promotes a deep sense of inner peace, helping you navigate life's challenges with grace.

Angel Aura Quartz - Ethereal Light: Angel Aura Quartz carries an ethereal and uplifting energy. It is believed to connect you to the angelic realms, inspiring a sense of serenity and divine connection.

Lapis Lazuli - Wisdom and Truth: Lapis Lazuli is a stone of wisdom and truth, empowering you to seek inner peace and self-expression. It enhances clarity, inner vision, and connection to the divine.

Blue Agate - Harmony and Balance: Blue Agate infuses the necklace with energies of harmony and balance. Like the still surface of a tranquil pond, it reflects a sense of calm amidst life's ebbs and flows.
Antique Tibetan Buddhist Inlaid White Quartz Carved Pendant - Symbol of Wisdom:
At the heart of this elegant ensemble hangs an Antique Tibetan Buddhist Inlaid White Quartz Carved Pendant. In Tibetan Buddhism, white quartz is revered for its symbolic purity and clarity. The intricate inlays and carvings reflect the wisdom and spiritual insight sought on the path to serenity.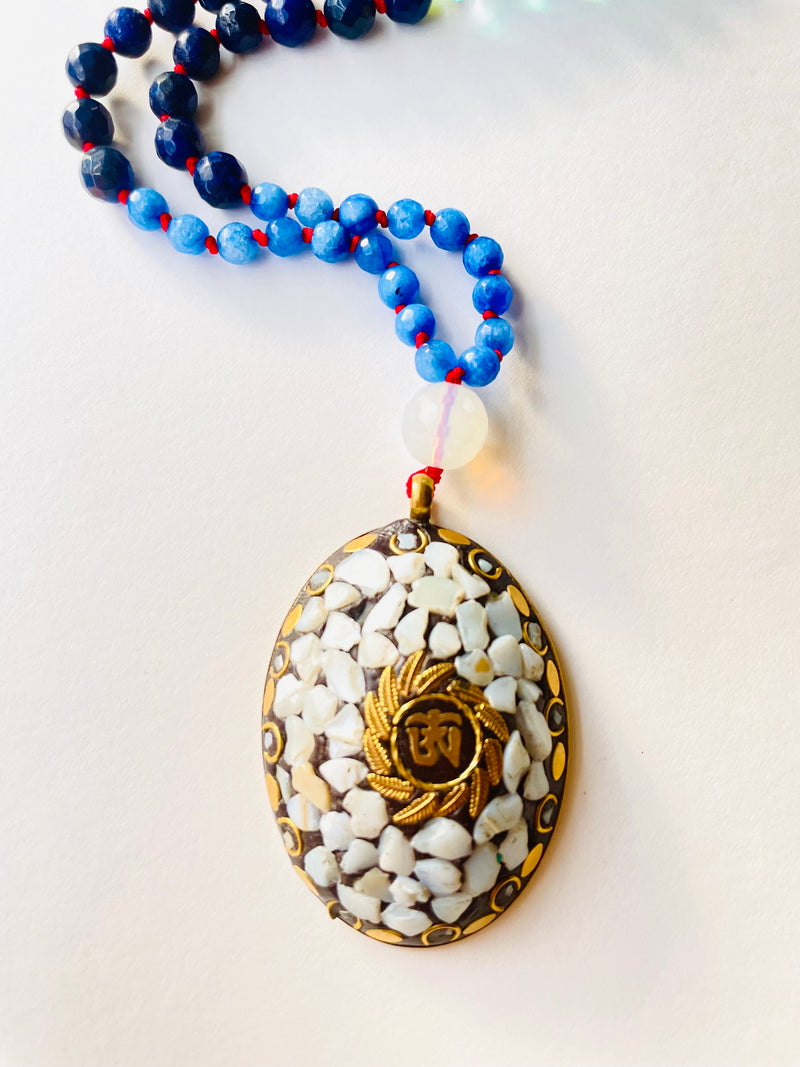 How to Use Your Mala:
Each Half Mala comes with a comprehensive card guiding you on how to use it effectively during meditation and intention setting. The Serenity Necklace is more than just a beautiful accessory; it's a tool to embrace your creative essence and align your energy with self-assured success.
Size & Fit:
Featuring approximately 66 beads, each measuring 8 mm & 6mm, the Serenity Necklace is thoughtfully designed for both comfort and style. Gracefully hanging at approximately 15 inches (36 cm), this unique piece of jewelry complements your neckline, empowering you to radiate confidence and creative vitality.
🎁 Perfect Gift: Share the gift of tranquility and inner peace with your loved ones. The Serenity Necklace makes a thoughtful gift for anyone seeking a touch of serenity amidst the chaos of the world.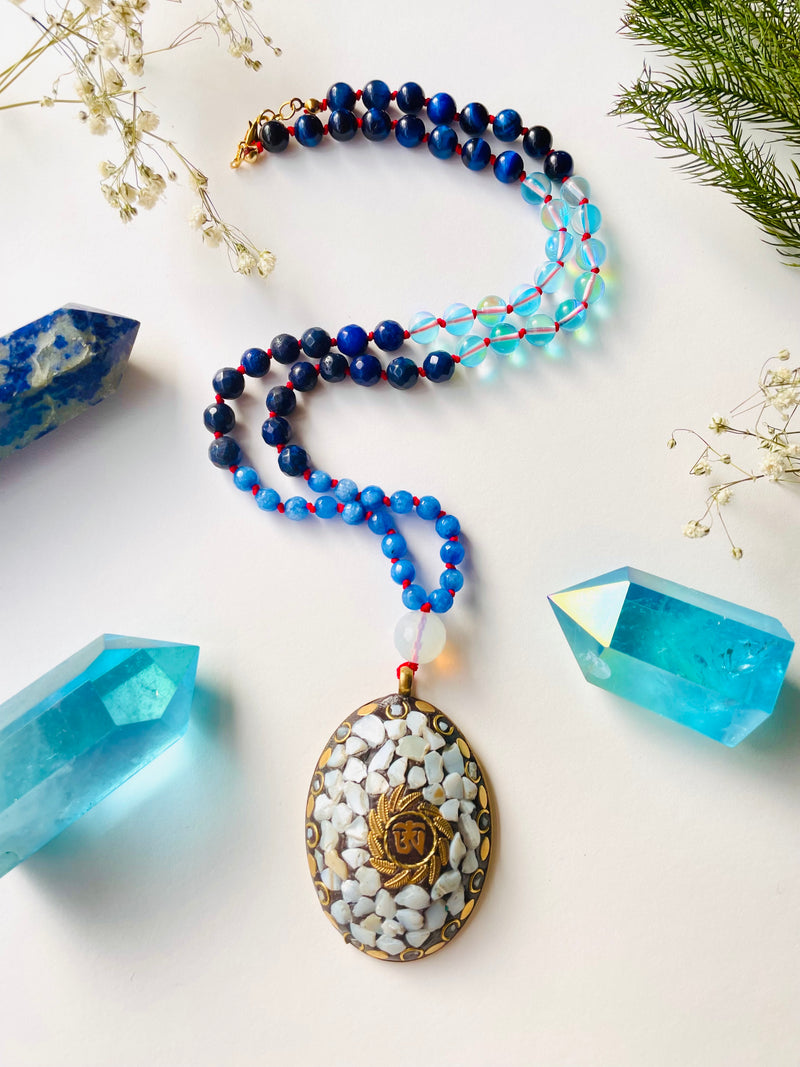 Meaningful Fusion:
Wear the "Serenity Elegance" Necklace as a symbol of inner peace and divine connection. Let the serenity of Kyanite, the ethereal light of Angel Aura Quartz, the wisdom of Lapis Lazuli, and the harmony of Blue Agate guide you on your journey. The Antique Tibetan Buddhist Inlaid White Quartz Carved Pendant serves as a reminder of the path to serenity and the wisdom found along the way. Elevate your style and embrace the tranquil energies of this carefully crafted necklace, a testament to the beauty of a serene heart and mind.