magickcollective
Under The Same Sky Half Mala Necklace
Under The Same Sky Half Mala Necklace
Embrace Unity: The Under The Same Sky Half Mala Necklace is a beautiful symbol of unity, designed to remind you that we are all interconnected under the vastness of the sky.
Exquisite Craftsmanship: Each necklace is carefully handcrafted by skilled artisans, ensuring a high level of detail and quality in every bead.
Balanced Design: The necklace features a carefully chosen combination of natural gemstone beads, creating a harmonious blend of colors and energies.
High-Quality Materials: Made from genuine semi-precious gemstones, the necklace is durable and resistant to everyday wear.
Gemstone Properties:
Starstone for Cosmic Connection: Reflecting the starlit heavens, Starstone invites wonder and connection.
Moonstone for Emotional Balance: The ethereal glow of Moonstone enhances intuition and emotional harmony.
Lapis Lazuli for Wisdom: Deep blue Lapis Lazuli fosters self-awareness and connection to higher truths.
Assyrian Evil Eye Pendant: A protective charm, guarding against negative energies as you traverse the celestial realms.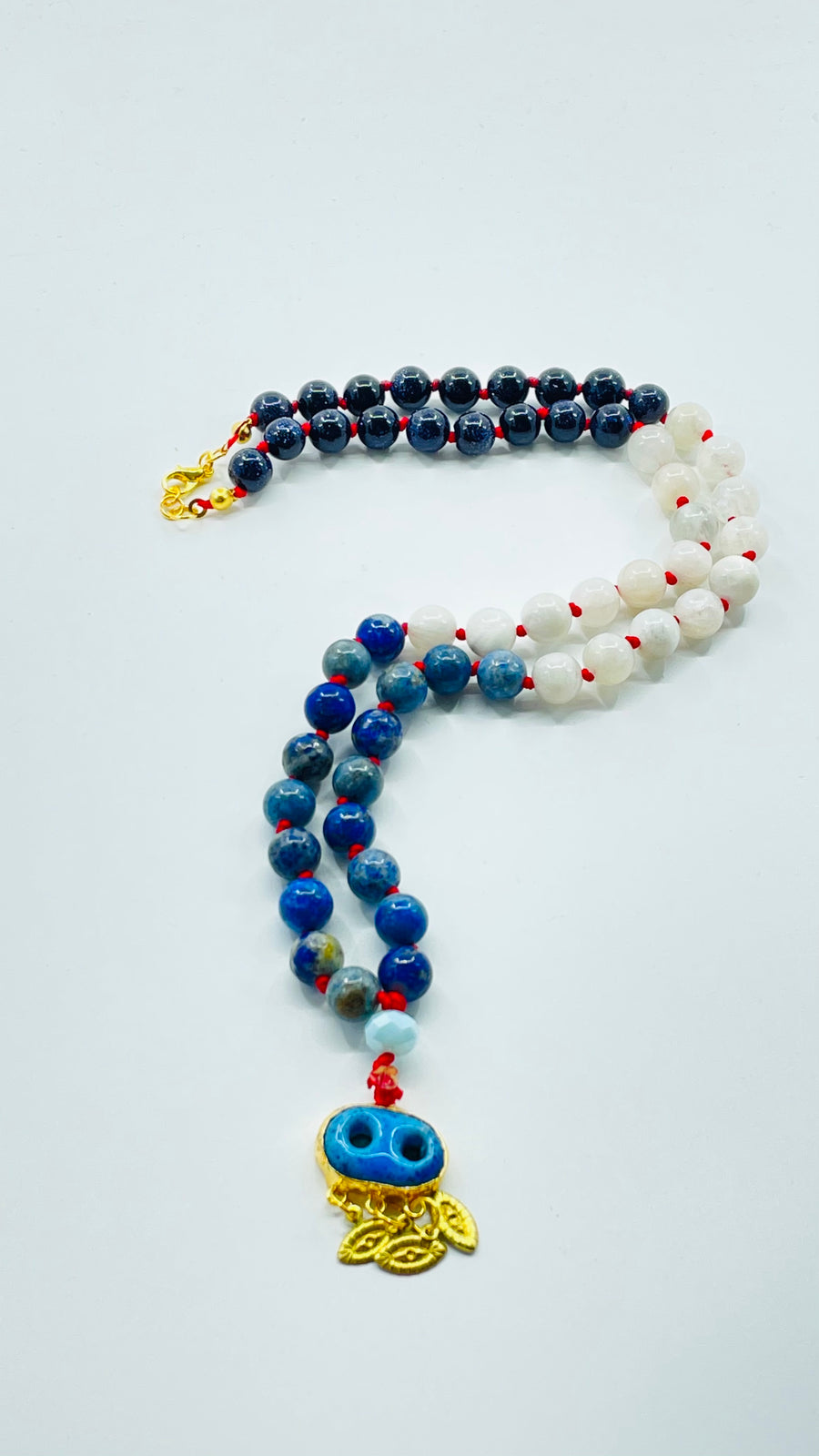 Comfortable to Wear: The beads are smooth and gentle on the skin, allowing you to wear the necklace comfortably throughout the day.
Adjustable Length: The necklace comes with an adjustable chain, allowing you to customize the length to suit your style and preference.
Spiritual Connection: The Half Mala Necklace can be used during meditation or yoga practices, serving as a tool to enhance spiritual awareness and mindfulness.
Versatile Style: Whether you're dressing up for a special occasion or keeping it casual, this necklace adds a touch of elegance and spirituality to any outfit.
Meaningful Gift: This necklace makes for a thoughtful and meaningful gift for friends, family, or loved ones, symbolizing your connection and shared journey under the same sky.
How to Use Your Mala:
Each Half Mala comes with a comprehensive card guiding you on how to use it effectively during meditation and intention setting. The Under The Same Sky Half Mala Necklace is more than just a beautiful accessory; it's a tool to embrace your creative essence and align your energy with self-assured success.
Size & Fit:
Featuring approximately 54 beads, each measuring 8 mm, the Under The Same Sky is thoughtfully designed for both comfort and style. Gracefully hanging at approximately 12 inches (30 cm), this unique piece of jewelry complements your neckline, empowering you to radiate confidence and creative vitality.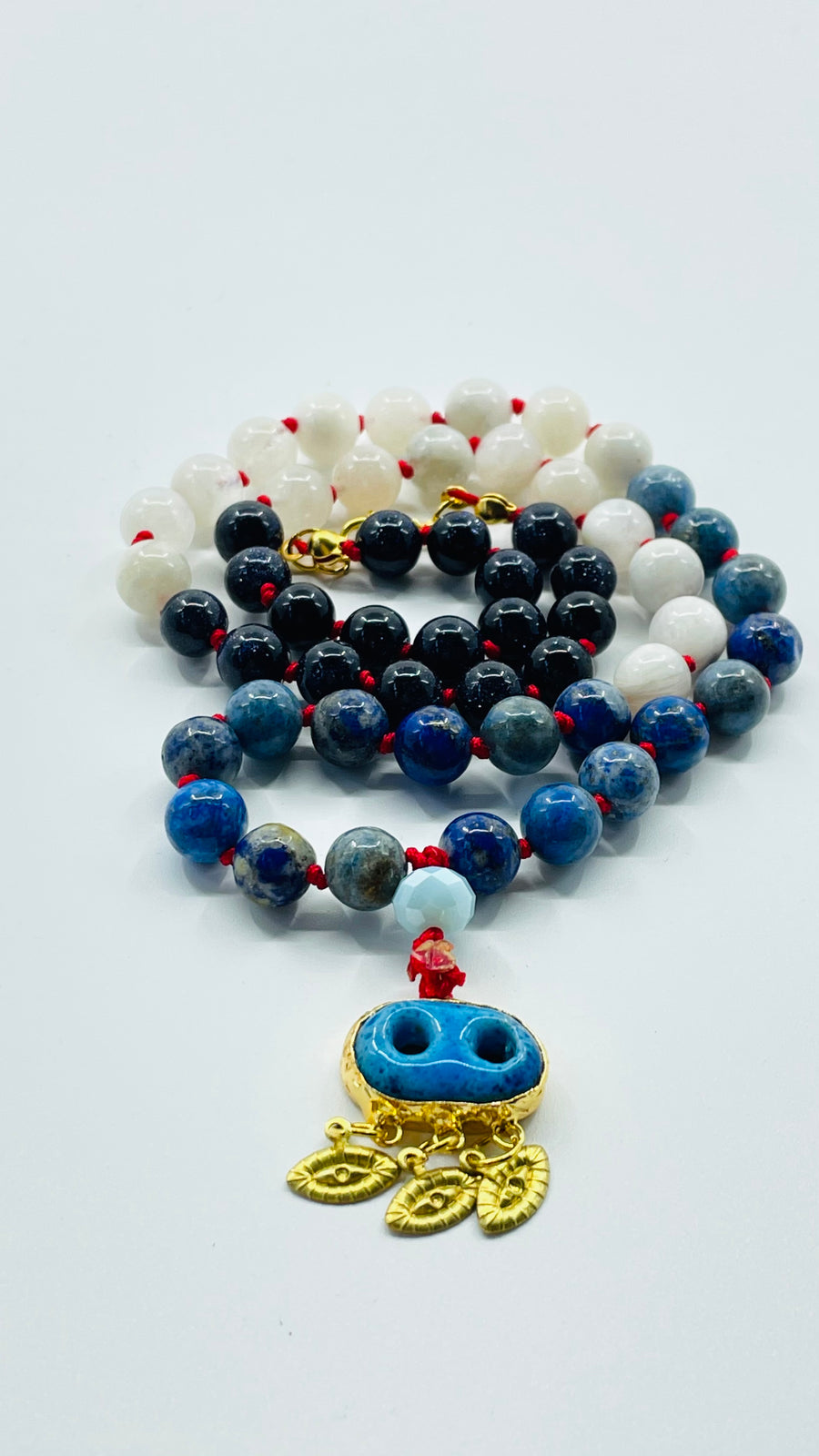 Eco-Friendly Packaging: We care about the environment. The necklace is presented in eco-friendly packaging, making it a responsible choice for conscious consumers.

Wear the Under The Same Sky Half Mala Necklace as a celestial reminder that, no matter where you are, you're under the same sky as the stars that connect us all. Let the energies of Starstone, Moonstone, and Lapis Lazuli guide you, while the Assyrian Evil Eye pendant safeguards your celestial journey. Elevate your style and spirit with this beautifully crafted necklace, connecting you to the vast universe above and the protective energies that surround you.