magickcollective
Wisdom Beaded Lapis Lazuli Statement Necklace
Wisdom Beaded Lapis Lazuli Statement Necklace
Introducing the Wisdom Beaded Lapis Lazuli Statement Necklace, an exquisite masterpiece intricately crafted with strikingly beautiful lapis lazuli beads. This stylish and sophisticated necklace is the perfect addition to elevate your look, showcasing exclusive craftsmanship that caters to the modern soul seeking both luxury and timeless elegance.
Details:
Length: 15 inches with a 2-inch extension
Closure: 22K Gold Plated 925 Sterling Silver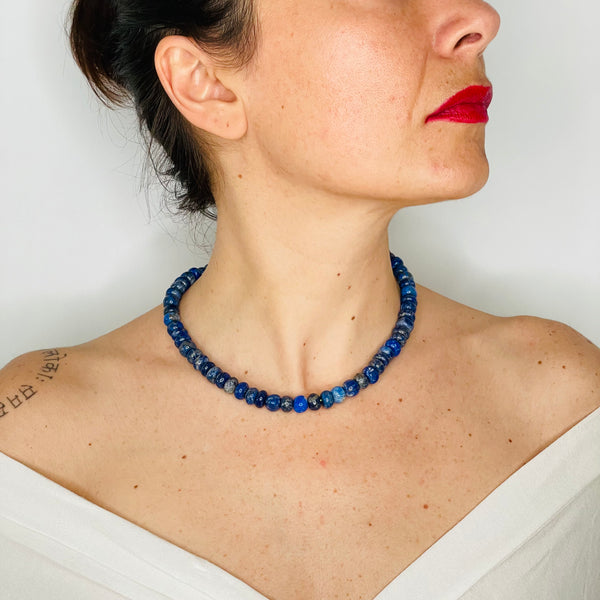 A Symbol of Wisdom and Inner Truth
Embrace the wisdom of lapis lazuli, a gemstone long revered for its spiritual significance and healing properties. Known as the stone of truth, lapis lazuli empowers the wearer with insight, clarity, and a deep connection to their inner wisdom.
Intricate Craftsmanship and Striking Beauty
The Wisdom Beaded Lapis Lazuli Statement Necklace boasts a design that captures the essence of sophistication. Each lapis lazuli bead has been meticulously chosen and skillfully arranged to create a stunning visual display of deep blue hues, reflecting the beauty of a starlit night sky.
A Touch of Luxury and Versatility
The 15-inch length of the necklace gracefully adorns your neckline, exuding elegance and style. The 2-inch extension offers versatility, allowing you to adjust the length to suit your preference and complement various outfits.
Closure that Elevates and Secures
Secure the necklace with the 22K Gold Plated 925 Sterling Silver closure, adding a touch of luxury that complements the richness of the lapis lazuli beads. The reliable fastening ensures you can wear this statement piece with confidence and comfort.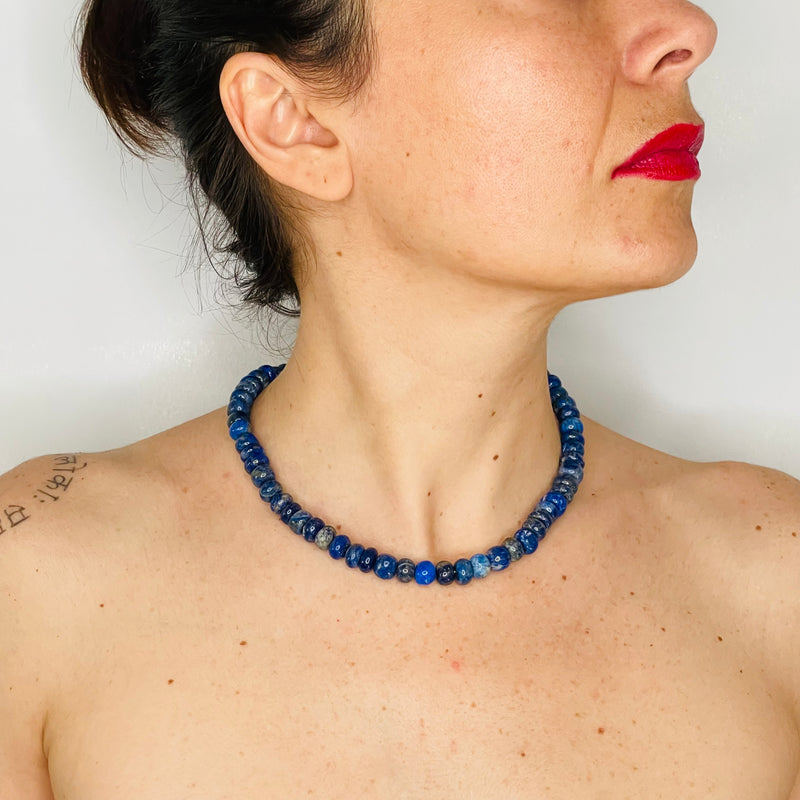 Make a Bold Fashion Statement
The Wisdom Beaded Lapis Lazuli Necklace is more than just an accessory; it's a statement of style and a reflection of your inner wisdom. Let it be a conversation starter, captivating others with its beauty and symbolism.
A Must-Have for Jewelry Connoisseurs
Designed for those who appreciate fine craftsmanship and exceptional beauty, this necklace is a must-have piece for jewelry connoisseurs and fashion aficionados alike. Add this treasure to your collection and cherish it for years to come.
A Gift of Wisdom and Luxury
Make a meaningful gift with our Wisdom Beaded Lapis Lazuli Statement Necklace, expressing your wishes of wisdom, insight, and prosperity. Whether for a loved one or yourself, this necklace is a thoughtful and luxurious gesture.
Embrace Timeless Elegance
Embrace the timeless elegance of our Lapis Lazuli Statement Necklace, a fusion of sophistication and spiritual significance. Elevate your style with this extraordinary piece, and let the deep blue hues of lapis lazuli guide you towards a path of wisdom and inner truth.