magickcollective
Pink Sky Half Mala Necklace
Pink Sky Half Mala Necklace
Discover a serene and elegant accessory that will elevate your style and spirit – the Pink Sky Half Mala Necklace. Handcrafted with care and attention to detail, this exquisite necklace exudes a captivating charm that will leave you enchanted.
Enchanting Pink Hues: The Pink Sky Half Mala Necklace features a delicate palette of blush and rose-colored natural gemstones. Each bead is carefully selected to create a stunning blend that mirrors the soft and alluring tones of a tranquil pink sky at dusk.
Calming and Uplifting: Embrace the calming energy of the soft pink gemstones, believed to promote feelings of love, compassion, and inner peace. Allow the necklace to uplift your mood and evoke a sense of serenity in your daily life.
Premium Craftsmanship: Our skilled artisans meticulously handcraft each Pink Sky Half Mala Necklace, ensuring exceptional quality and attention to detail. The smooth and polished gemstone beads exude sophistication and a touch of luxury.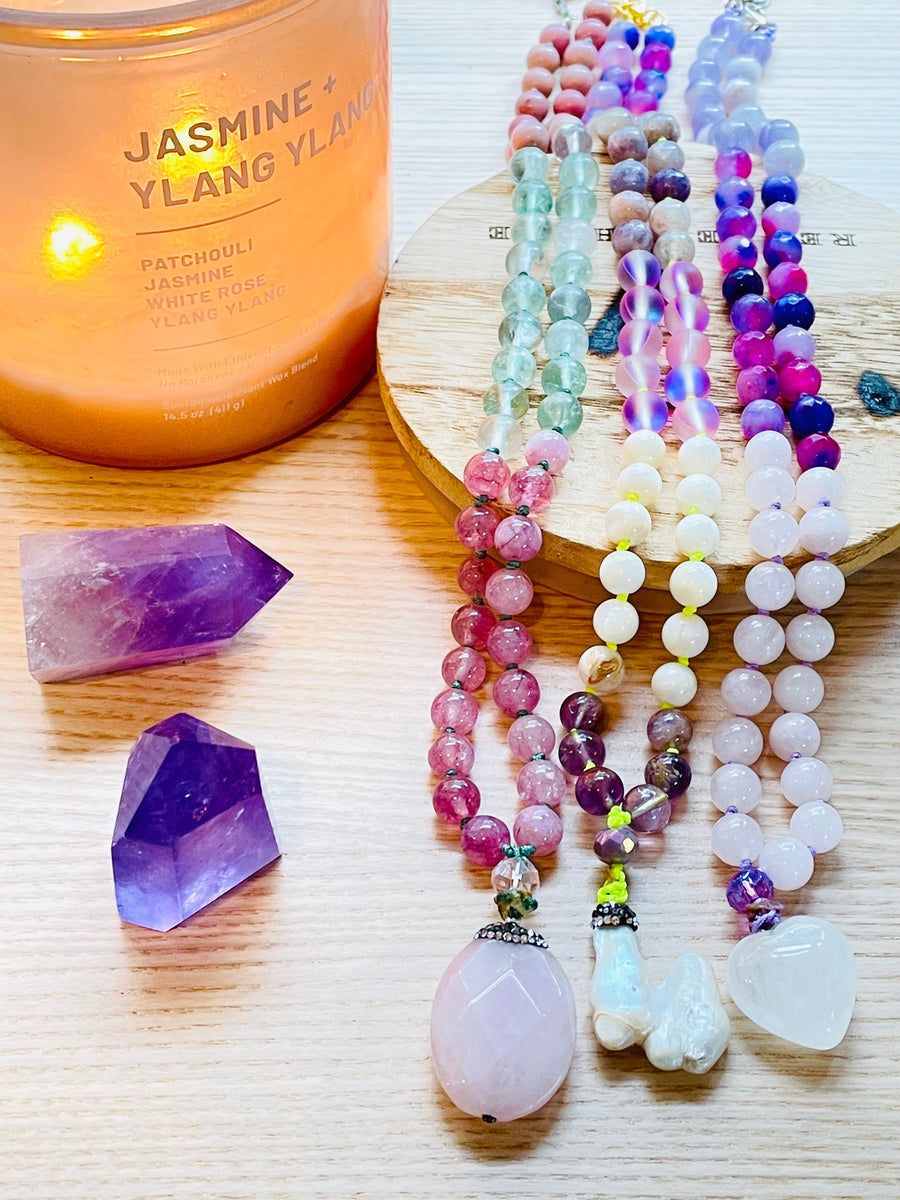 Gemstone Properties:
Pink & Purple Agate for Tranquility: Embrace the soothing energies of Pink & Purple Agate, fostering balance and calm.
Pink Tourmaline for Heart Healing: Radiate love and compassion with Pink Tourmaline, promoting emotional healing.
Hydrothermal Pink Quartz for Serenity: Experience peace akin to a pink sunset with Hydrothermal Pink Quartz.
Nacre for Tranquility: Iridescent Nacre symbolizes purity and tranquility.
Ametrine for Balance: The harmonizing energies of Ametrine bring balance and spiritual insight.
Pearl Pendant for Wisdom: The Pearl pendant embodies calming energies and the wisdom gained through experience.
How to Use Your Mala:
Each Half Mala comes with a comprehensive card guiding you on how to use it effectively during meditation and intention setting. Pink Sky Half Mala Necklace is more than just a beautiful accessory; it's a tool to embrace your creative essence and align your energy with self-assured success.
Size & Fit:
Featuring approximately 54 beads, each measuring 8 mm, the Pink Sky Half Mala Necklace is thoughtfully designed for both comfort and style. Gracefully hanging at approximately 12 inches (30 cm), this unique piece of jewelry complements your neckline, empowering you to radiate confidence and creative vitality.
Embrace Mindfulness: Whether you're meditating, practicing yoga, or seeking a moment of introspection, this necklace becomes a meaningful tool to enhance your spiritual journey and mindfulness practices.
Thoughtful Gift: Delight a special someone with this elegant and meaningful gift. The Pink Sky Half Mala Necklace is a symbol of affection and understanding, making it a thoughtful gesture for birthdays, anniversaries, or any occasion that calls for an expression of love.
Conscious Packaging: We care about the environment, which is why the Pink Sky Half Mala Necklace is presented in eco-friendly packaging, reflecting our commitment to sustainable practices.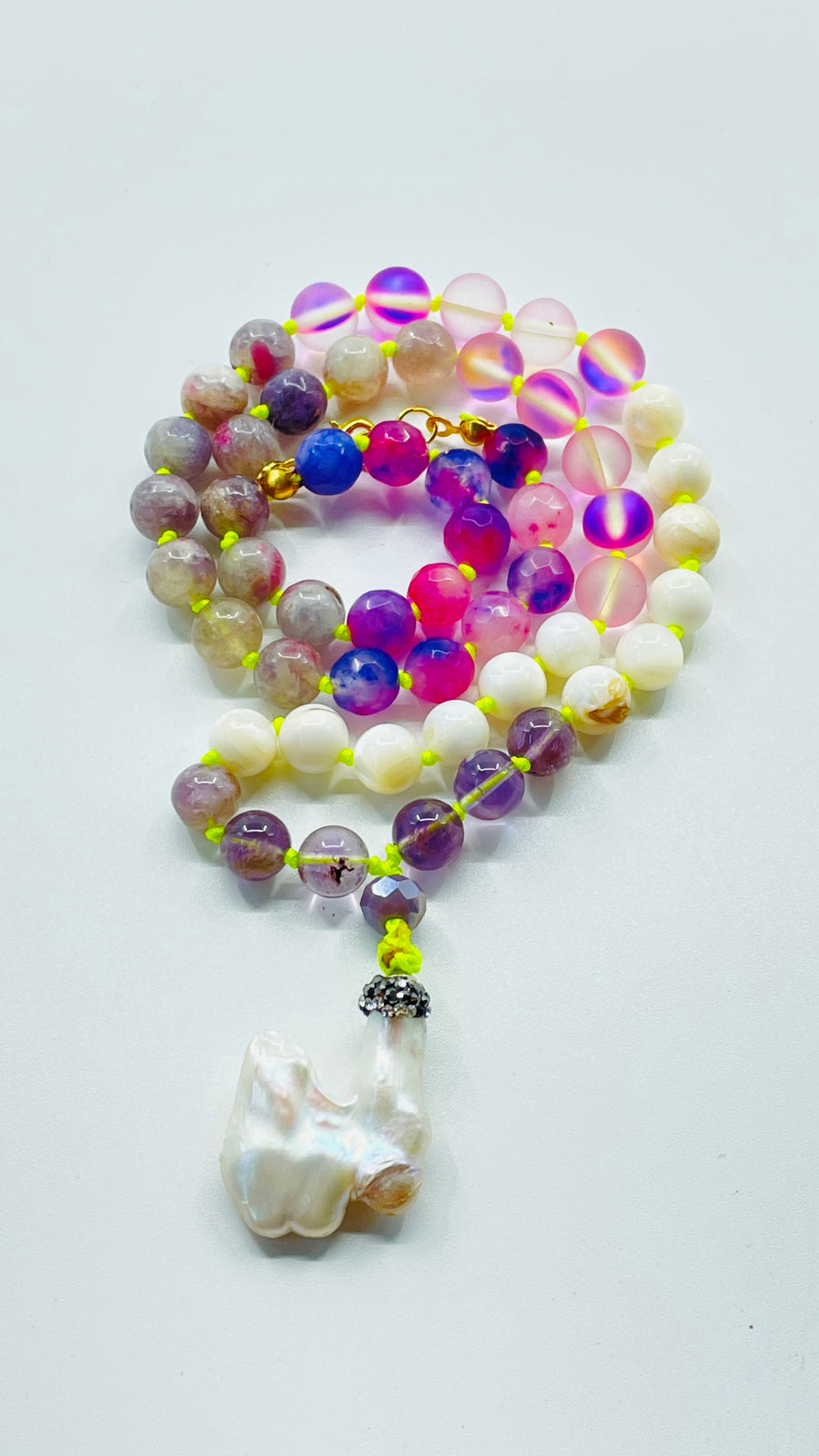 Indulge in the enchanting beauty of the Pink Sky Half Mala Necklace and let its soothing pink hues and elegant design evoke a sense of serenity and grace in your life. Elevate your style and embrace mindfulness with this captivating accessory that celebrates the beauty of simplicity and tranquility.